連携事例紹介
イベント
Events
香港 Hong Kong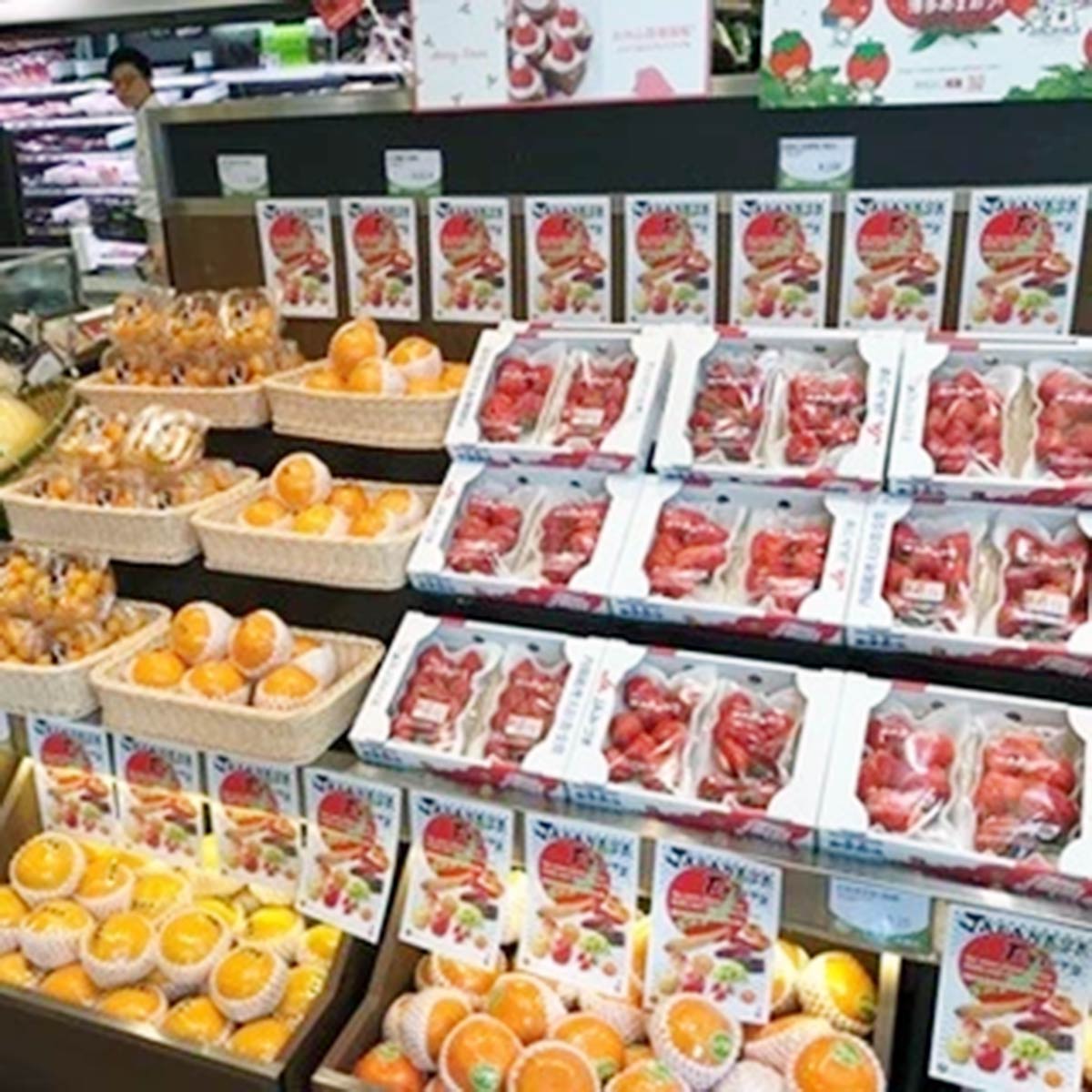 博多あまおう・福岡かきフェア
あまおうの認知度は香港でも高く、甘くて美味しいと好評。
Hakata Amaou and Fukuoka Persimmon Fair
Amao is highly recognized in Hong Kong and is well received for its sweetness and deliciousness.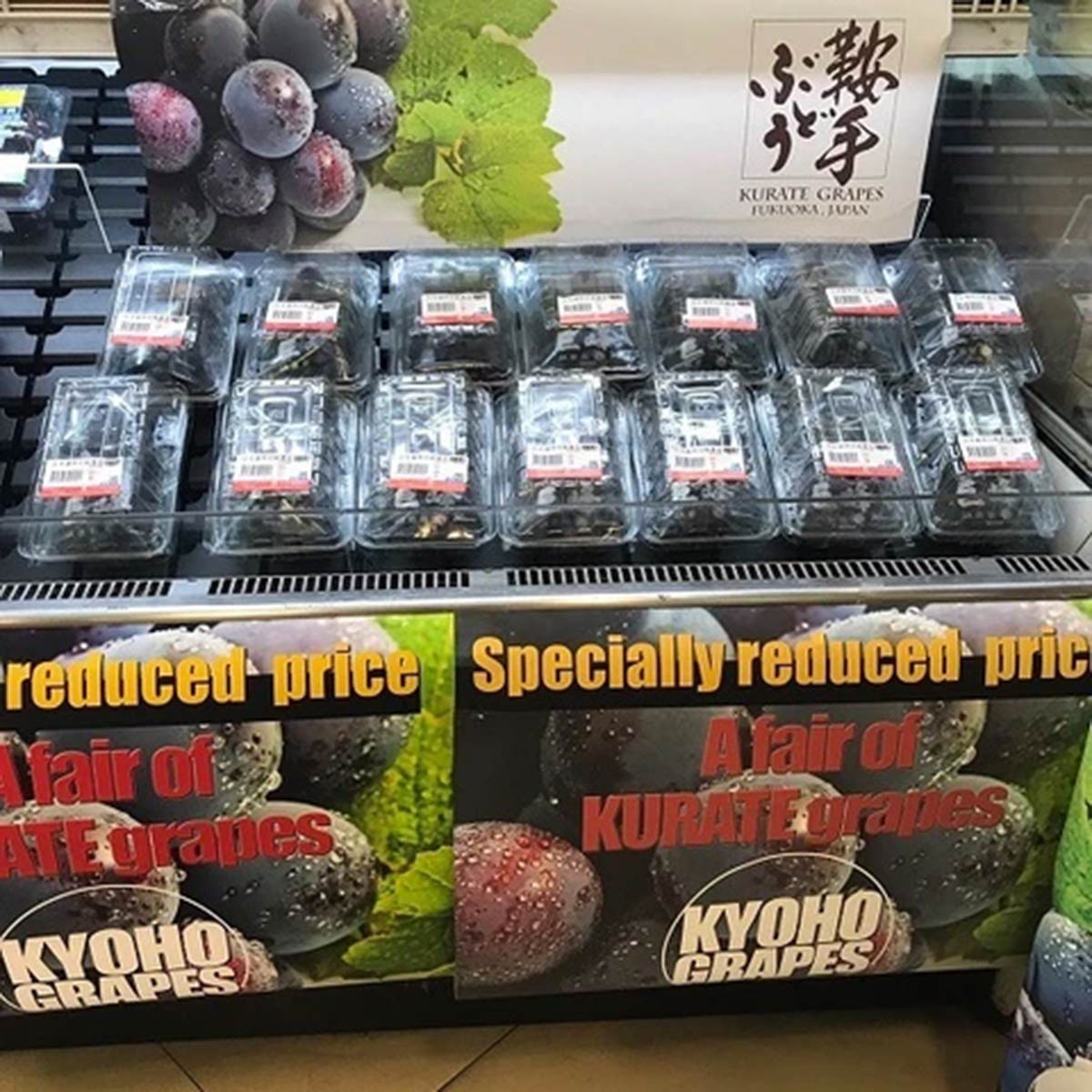 鞍手ぶどうフェア
大粒の巨峰は食味評価も高く好評。
Kurate Grape Fair
Large grapes of Kyoho grapes are highly rated for their eating quality and favorable reputation.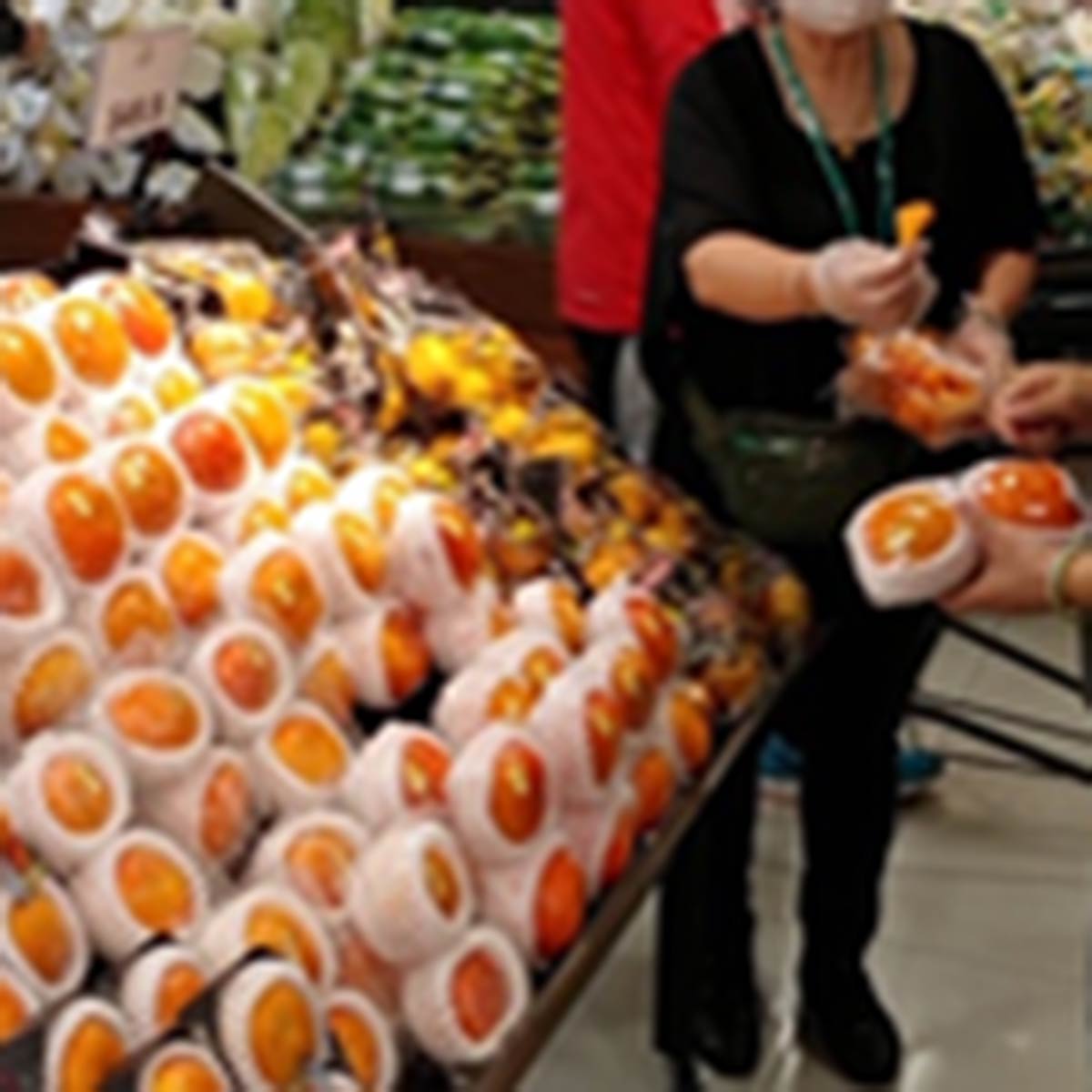 福岡かきフェア
甘い柿は香港でも人気。
Fukuoka persimmon Fair
Sweet persimmons are popular in Hong Kong.
アメリカ U.S.A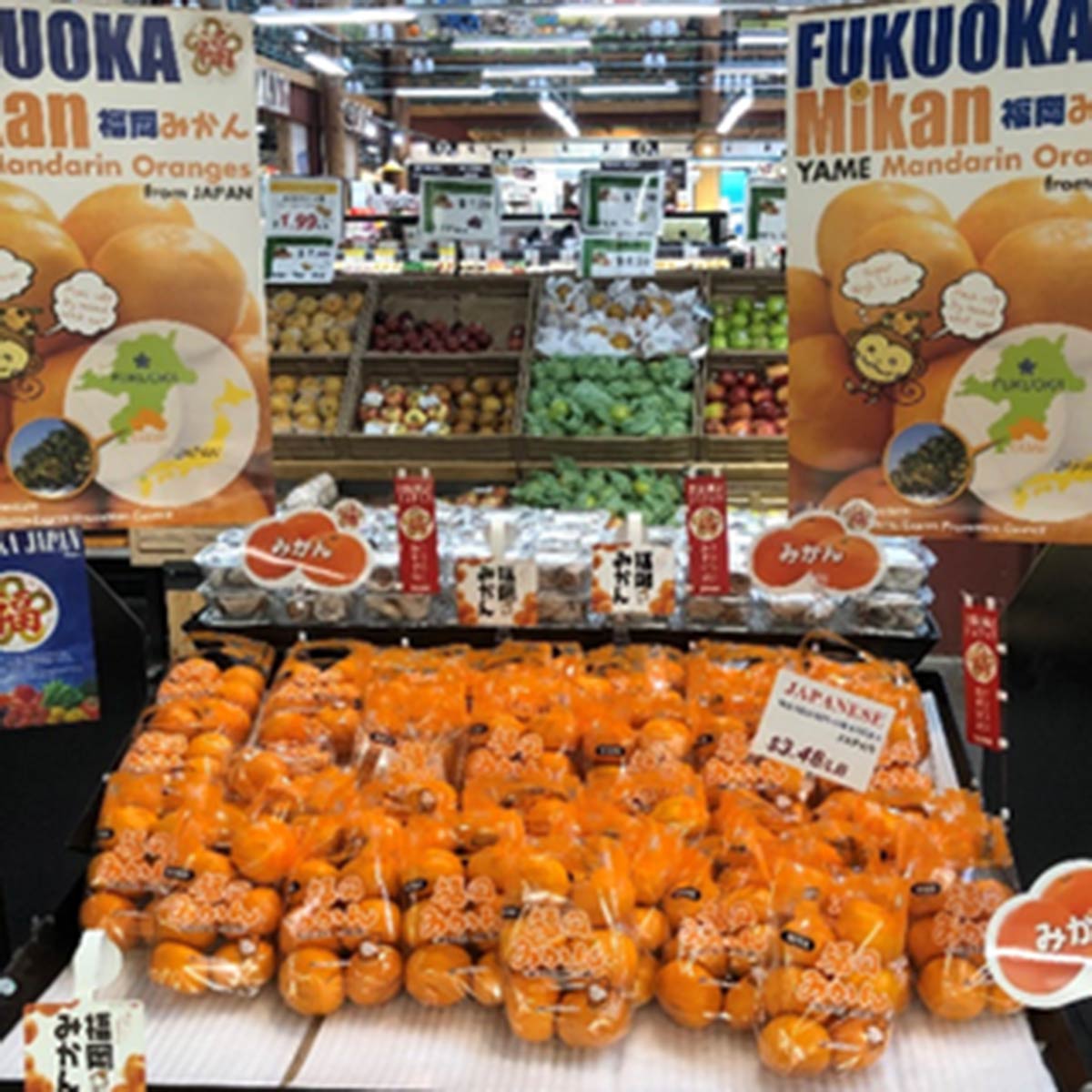 福岡県産みかんフェア
米国産マンダリンより「甘い、ジューシー」と好評ですぐに完売。
Fukuoka Mandarin Oranges Fair
Sold out quickly due to its popularity as "sweeter and juicier" than U.S.-grown mandarins.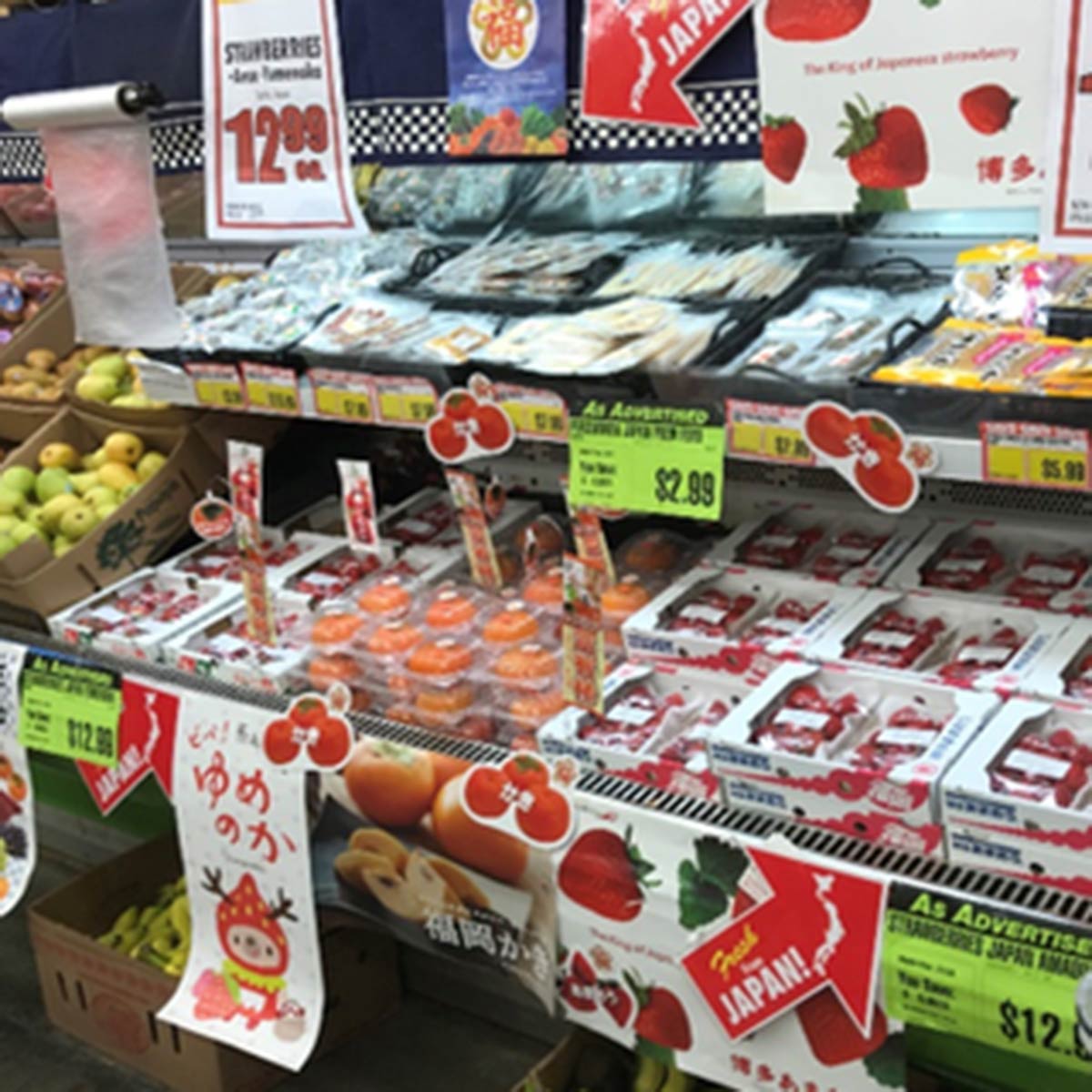 福岡県産あまおう、長崎県産ゆめのかのフェア
いちごは米国産やメキシコ産との価格差は大きいが、甘さと柔らかさが好評。
Fair of Fukuoka Prefecture-grown Amaou and Nagasaki Prefecture-grown Yumenoka
Although there is a large price difference between strawberries and those from the U.S. and Mexico, the sweetness and softness of the strawberries are well received.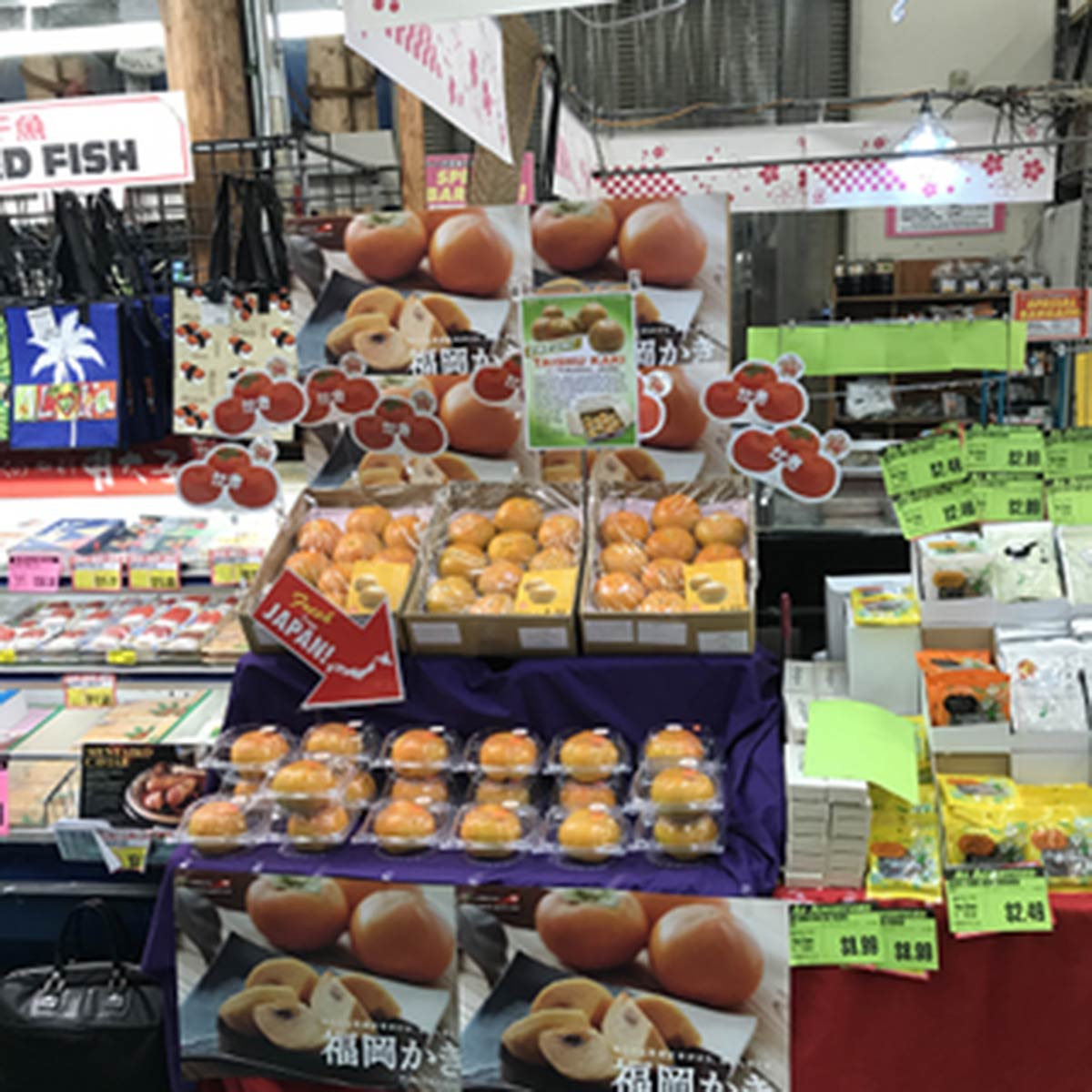 福岡県産かき(太秋柿)
「条紋が美味しい印です」と説明。試食したお客様は、納得して購入。
Persimmon (Taishu persimmon) from Fukuoka Prefecture.
The "striped pattern is a sign of good taste," we explained. Customers who tasted it were convinced and bought it.
台湾 Taiwan
福岡みかんフェア
台湾では果物の消費が旺盛。
しかし、酸味の強いものは好まれない。
みかんはS・2Sの小玉が好評。
Fukuoka Mikan Fair
Fruit consumption is vigorous in Taiwan. However, highly acidic products are not favored. S and 2S small mandarin oranges are popular.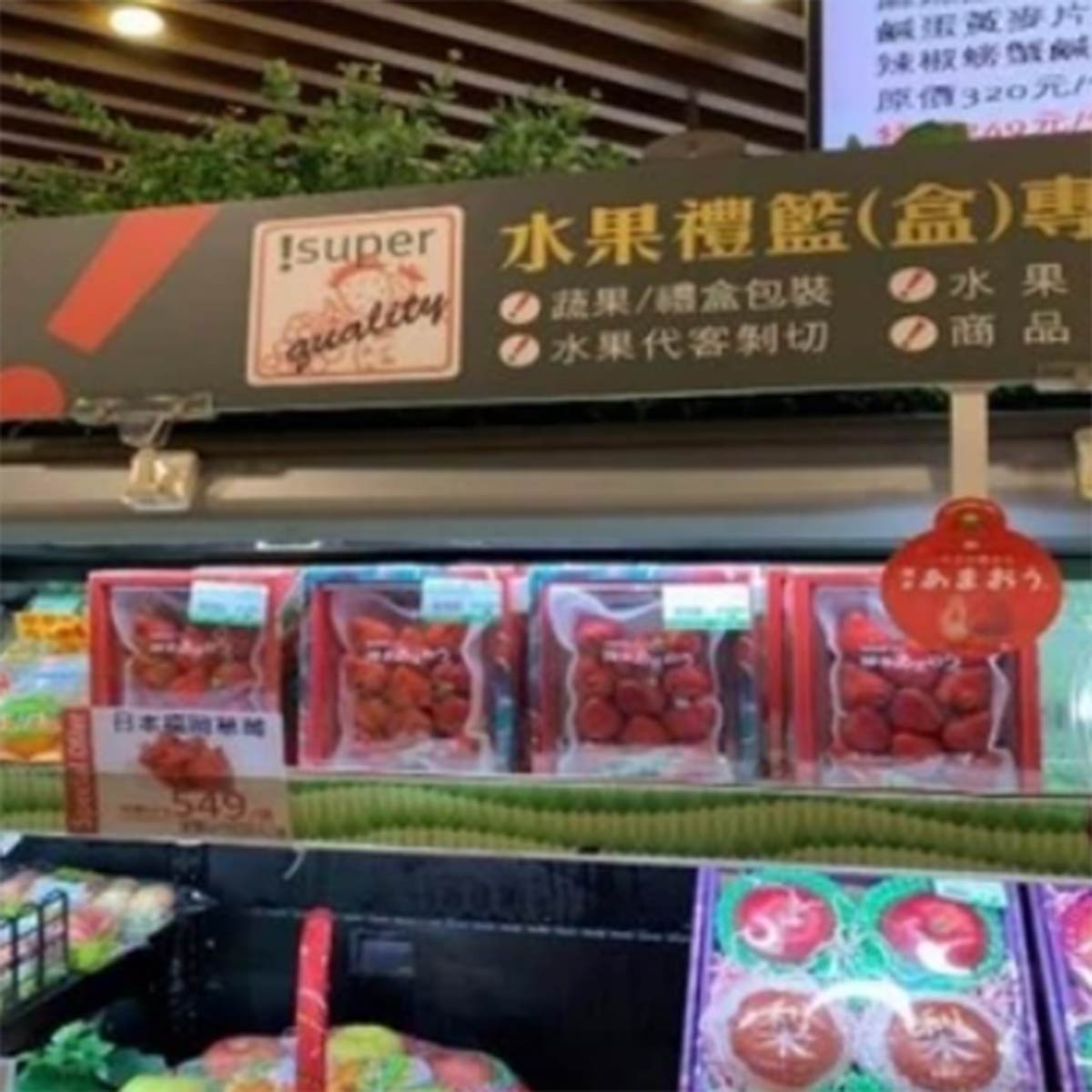 福岡県産あまおうフェア
甘みと酸味のバランスと、食べ応えのあるサイズ感が好評。
Fukuoka Prefecture Amaou Fair
The balance of sweetness and sourness and the satisfying size of the product are popular.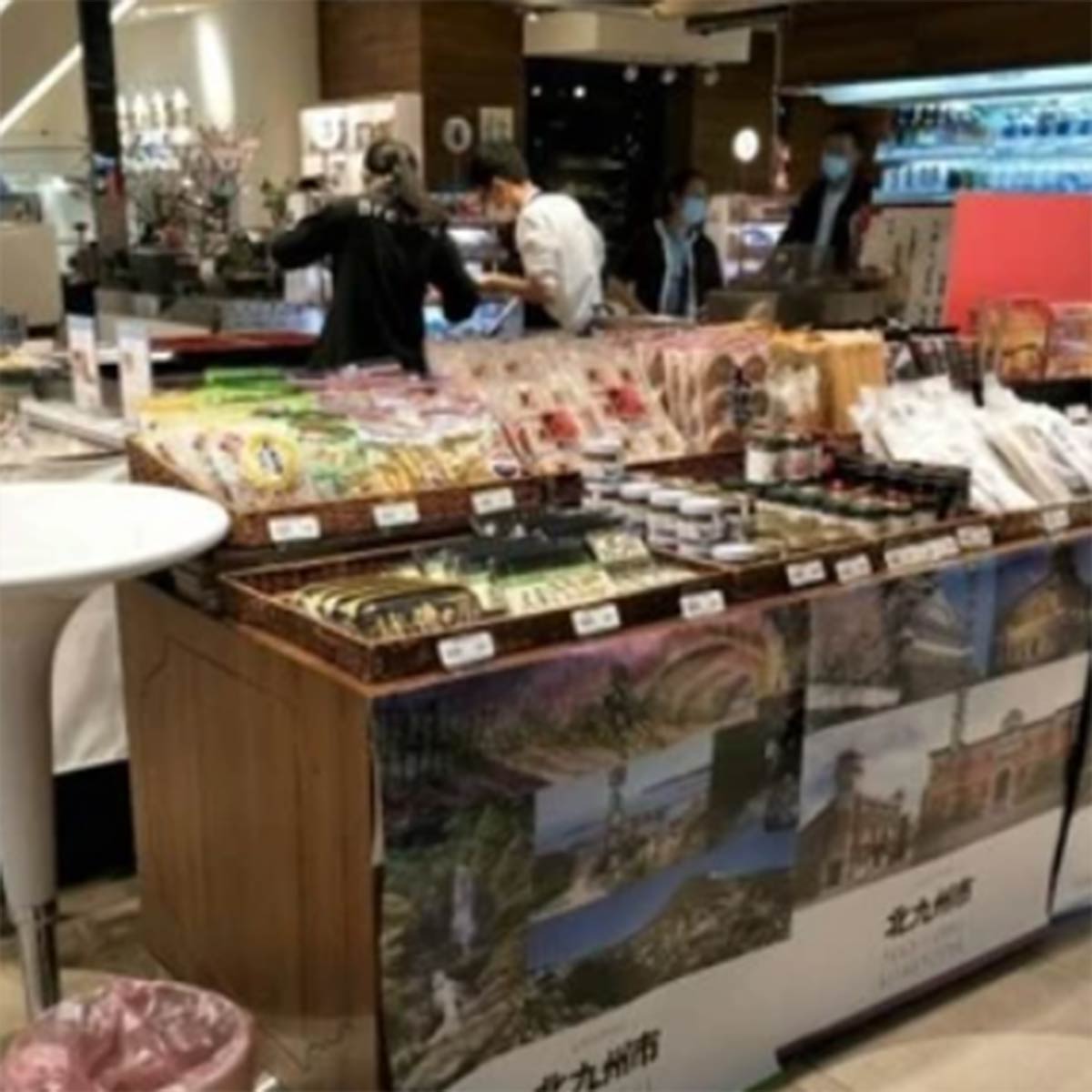 第2回北九州物産展in台北
お客様からは、「北九州市の食品はとっても美味しい。北九州に行ってみたくなった。」との評判。
The 2nd Kitakyushu Product Exhibition in Taipei
Customers said, "Foods from Kitakyushu City are very delicious. It made me want to visit Kitakyushu."
タイ Thailand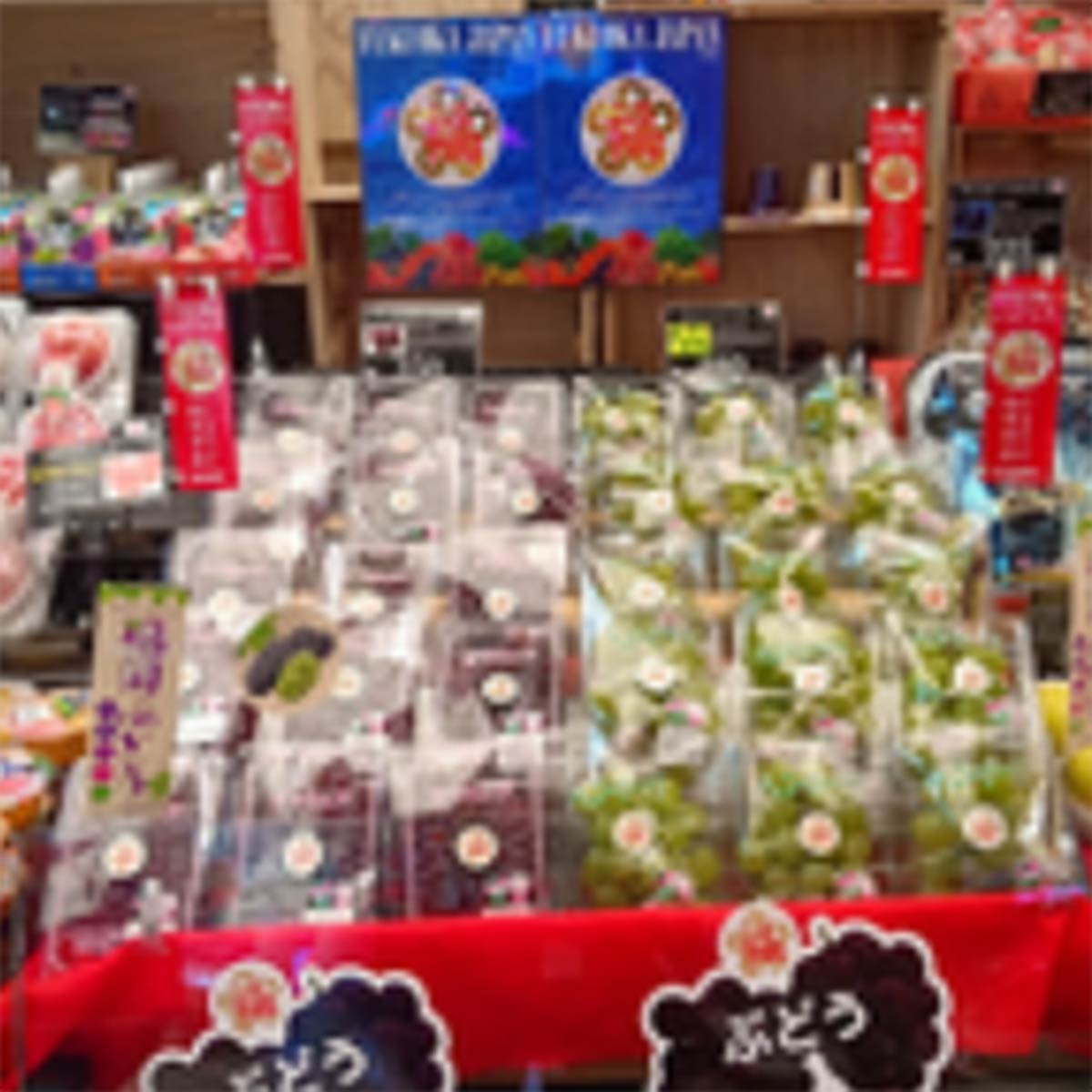 福岡県産ぶどうフェア
ハニービーナスやデラウエアを販売。種がなく小粒で、小さな子供も食べやすいと好評。
Fukuoka Grapes Fair
Honey Venus and Delaware grapes are sold. The small, seedless grapes are popular for being easy for small children to eat.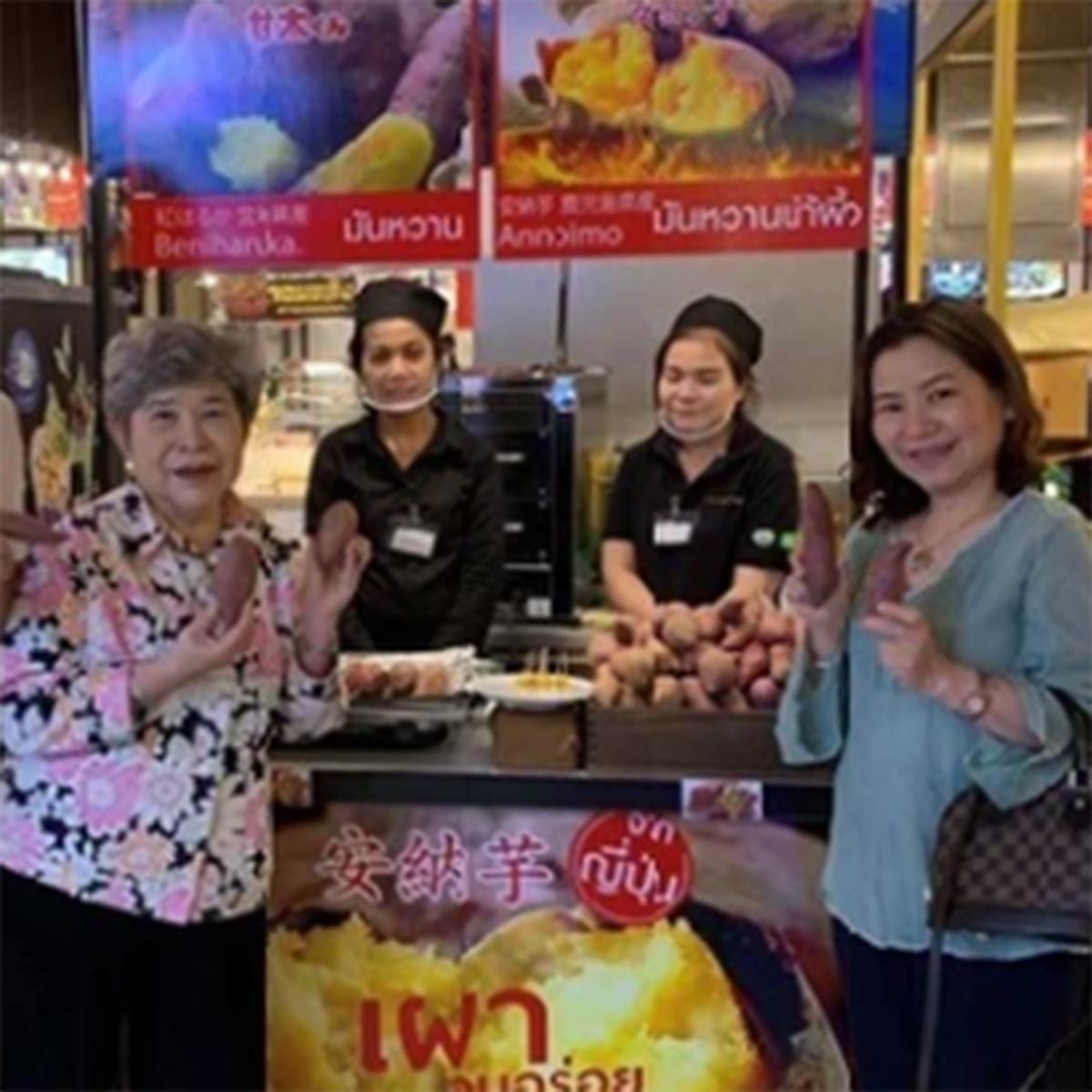 大分県産さつまいもフェア
紅はるか等のネットリ系さつまいもが好評。
Oita Prefecture Sweet Potato Fair
Nettlesome sweet potatoes such as Beniharuka are popular.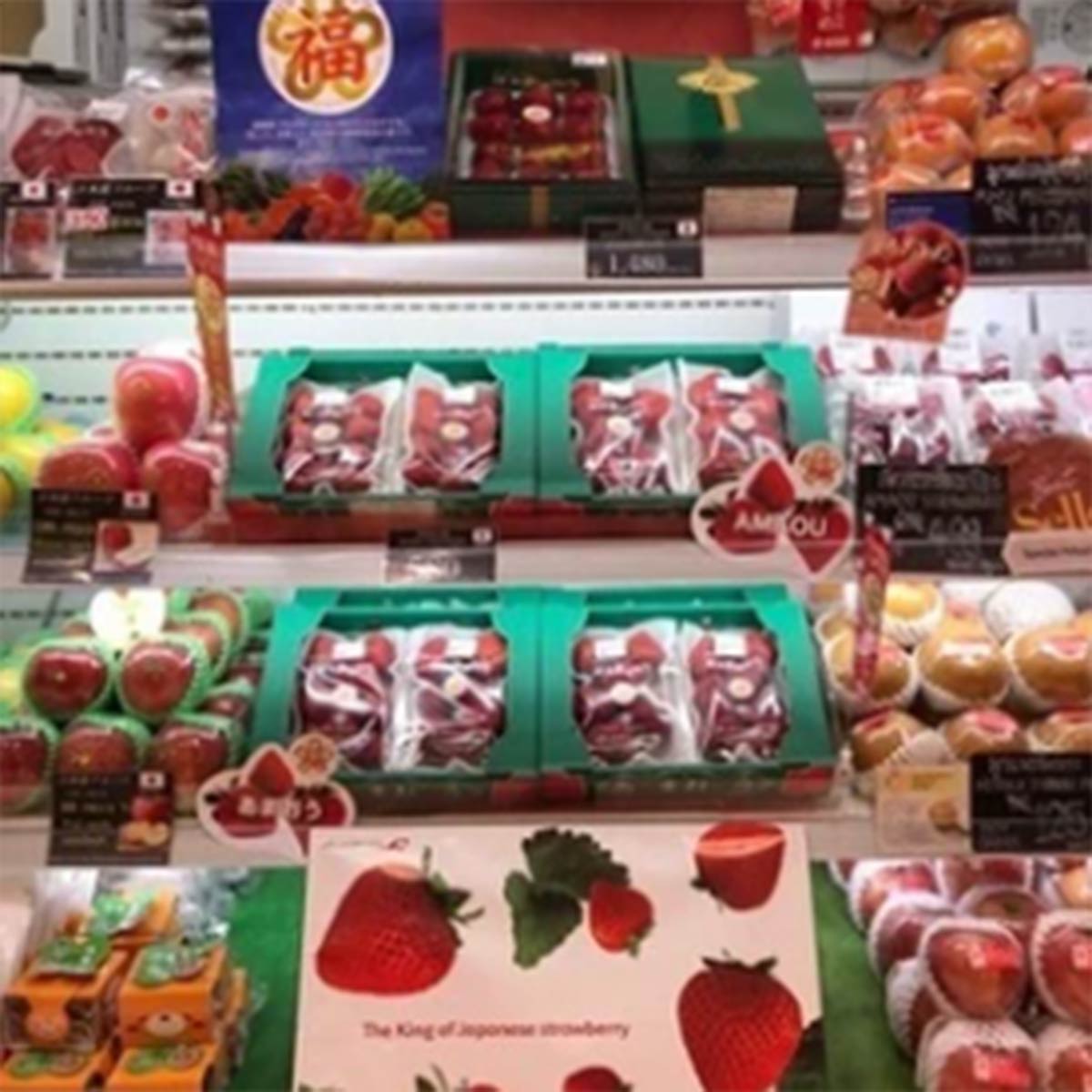 博多あまおうフェア
あまおうは安定したブランド力で、タイでも認知度が高い。
Hakata Amaou Fair
Amaou is a stable brand and is well recognized in Thailand as in other countries.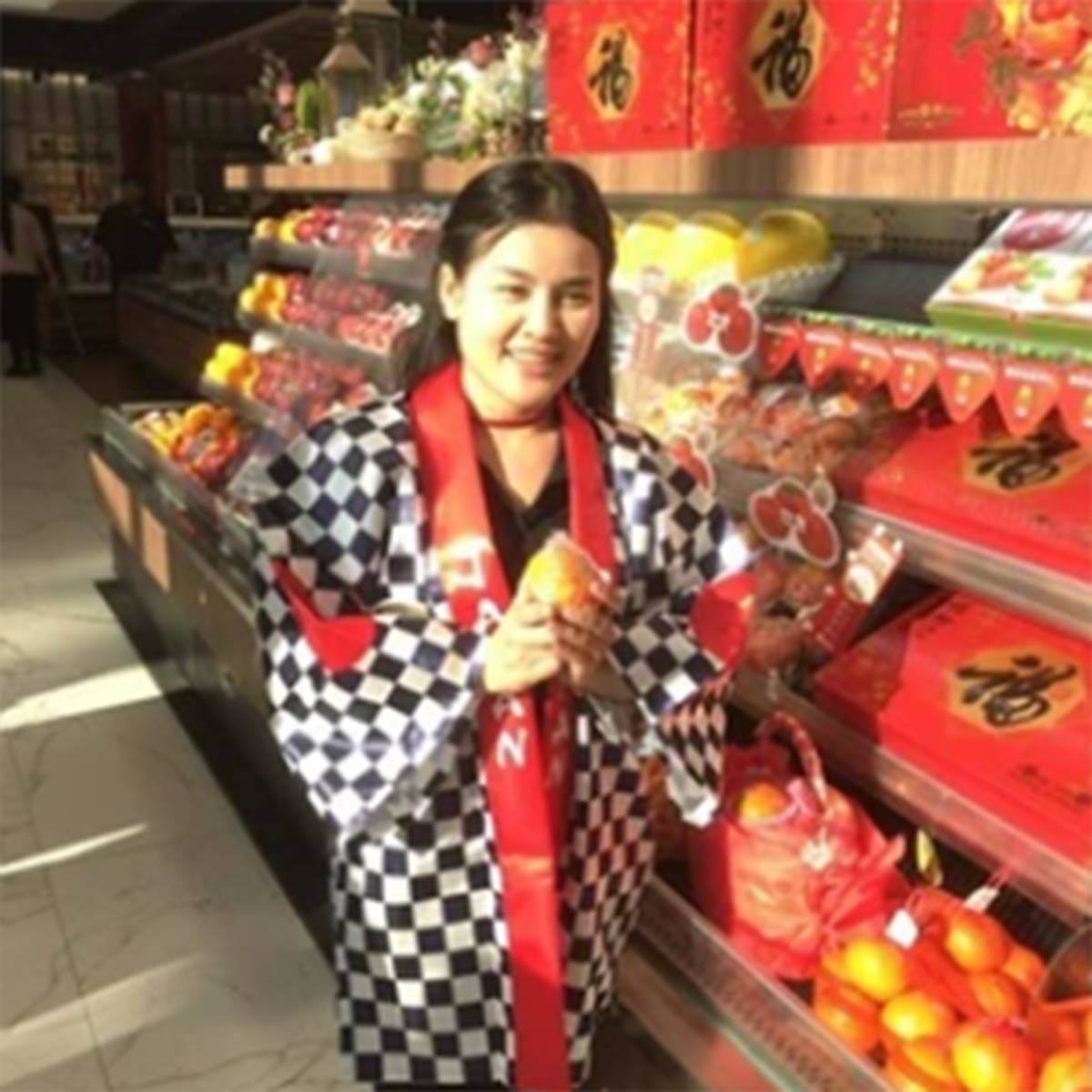 福岡県産冷蔵柿フェア
甘くて硬い柿が好評。特に、柿のサクサクとした食感が人気。
Fukuoka Refrigerated Persimmon Fair
Sweet and hard persimmons from Fukuoka Prefecture are popular. The crunchy texture of persimmons is especially popular.
ベトナム Vietnam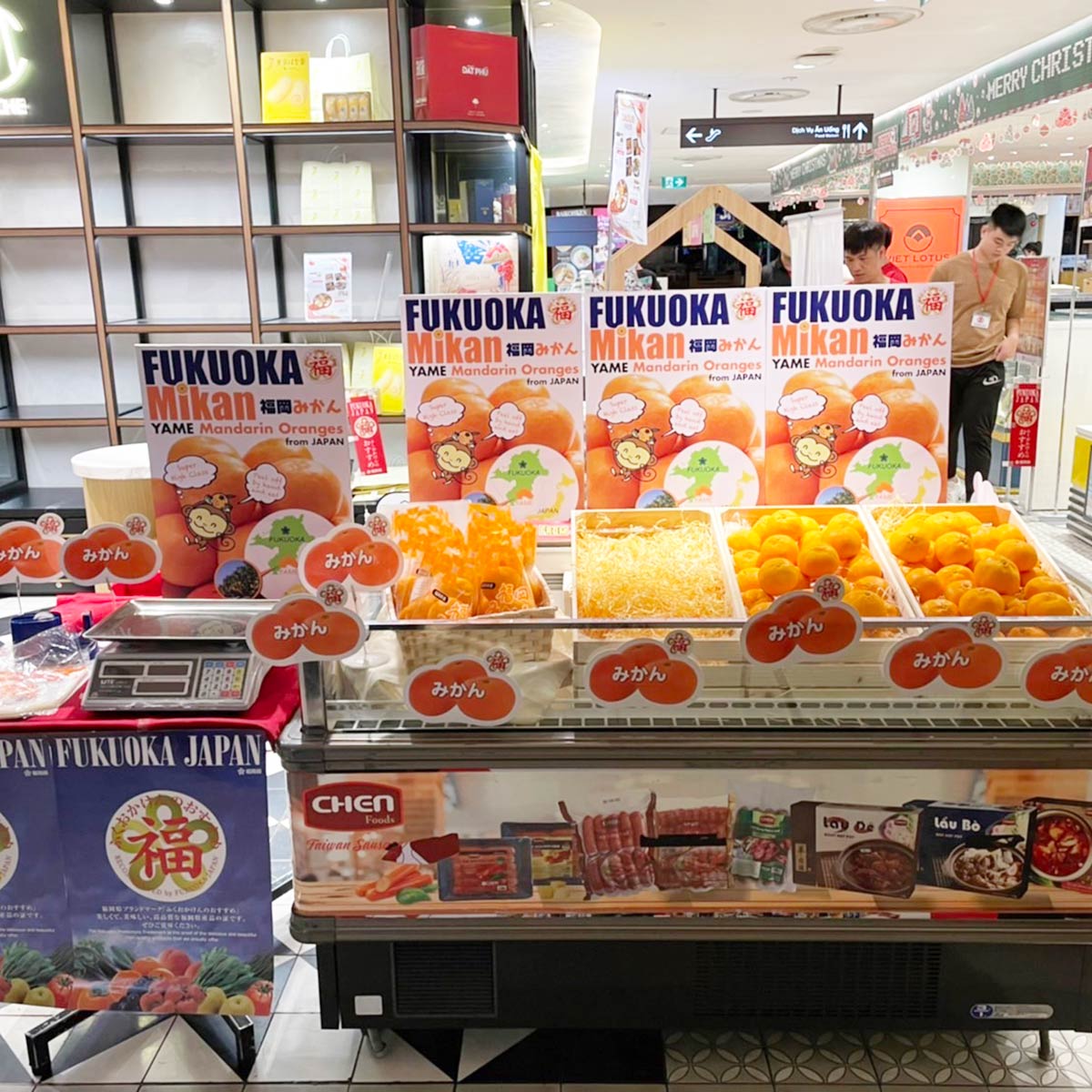 福岡みかんフェア
2022年10月にベトナム向けの日本産うんしゅうみかん輸出が解禁。和歌山県に次いで二番目に早くベトナムへ進出。現地での評判も上々。
Fukuoka Mikan Fair
The ban on exporting Japanese unshu mikan to Vietnam was lifted in October 2022. We were the second earliest exporter of mikan to Vietnam after Wakayama Prefecture. They have been well received locally.
マレーシア Malaysia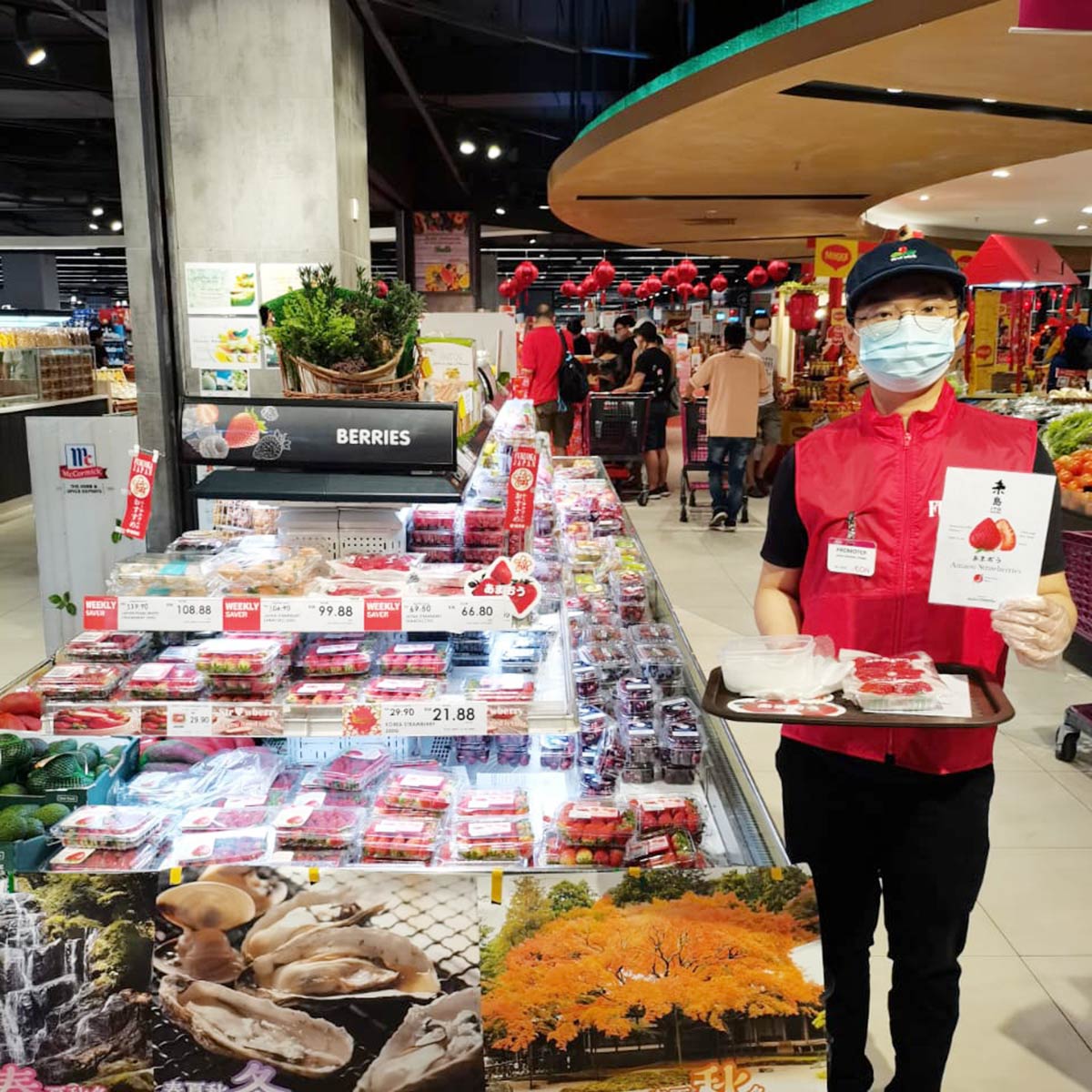 糸島産あまおうフェア
JA糸島、糸島市と連携して、マレーシアにおいてあまおうフェアを実施。「糸島ブランド」の海外展開をはかった。
Itoshima Amaou Fair
In cooperation with JA Itoshima and Itoshima City, an Amaou Fair was held in Malaysia. The aim was to promote the "Itoshima Brand" overseas.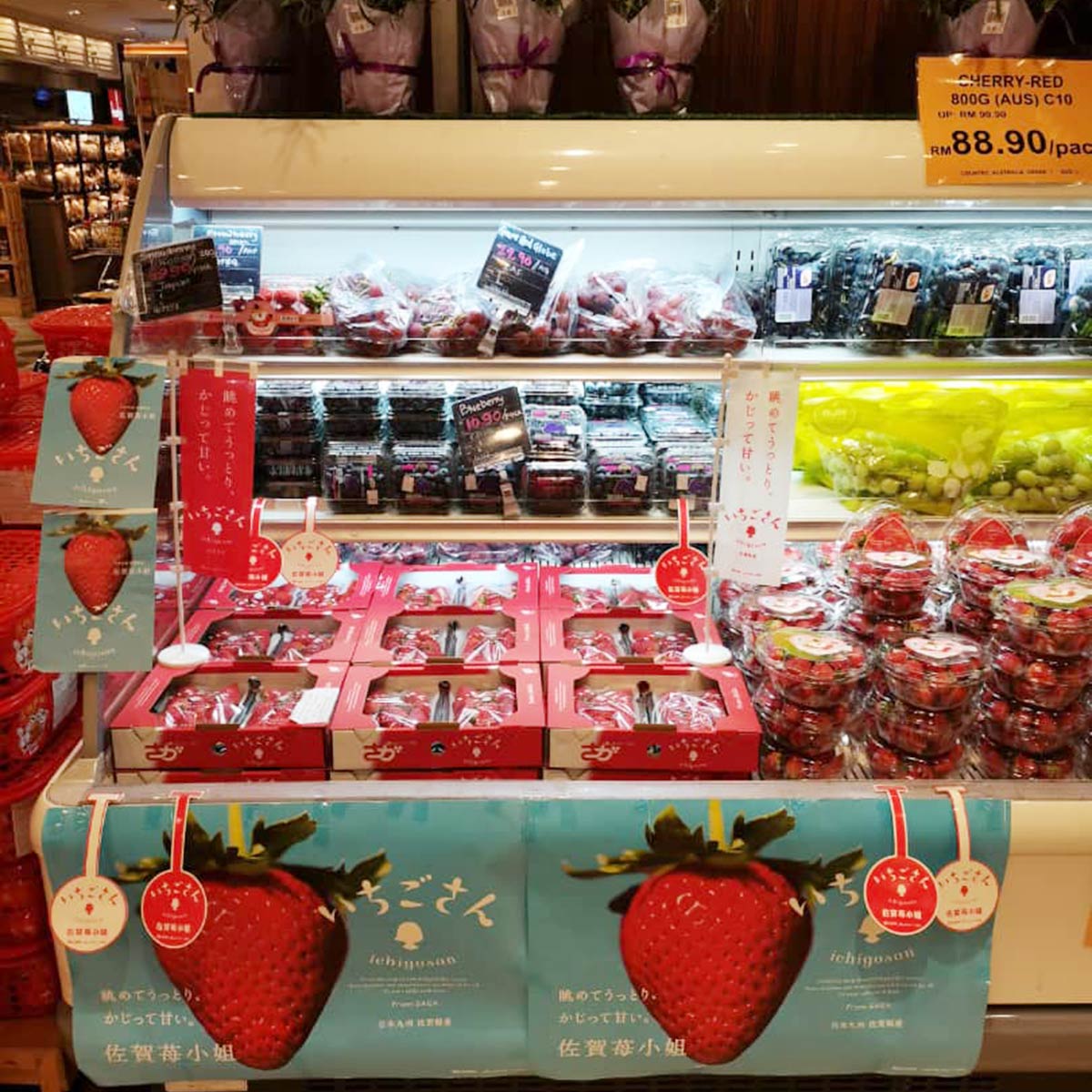 佐賀産いちごさんフェア
いちごさんブランドは、徐々にアジアに浸透。いちごの品質に加えて、ポップでかわいらしい販促資材も現地で好評を得た。
Saga Ichigo-san Fair
The Ichigo-san brand has gradually penetrated Asia. In addition to the quality of the strawberries, the pop and cute sales promotion materials were also well received in the region.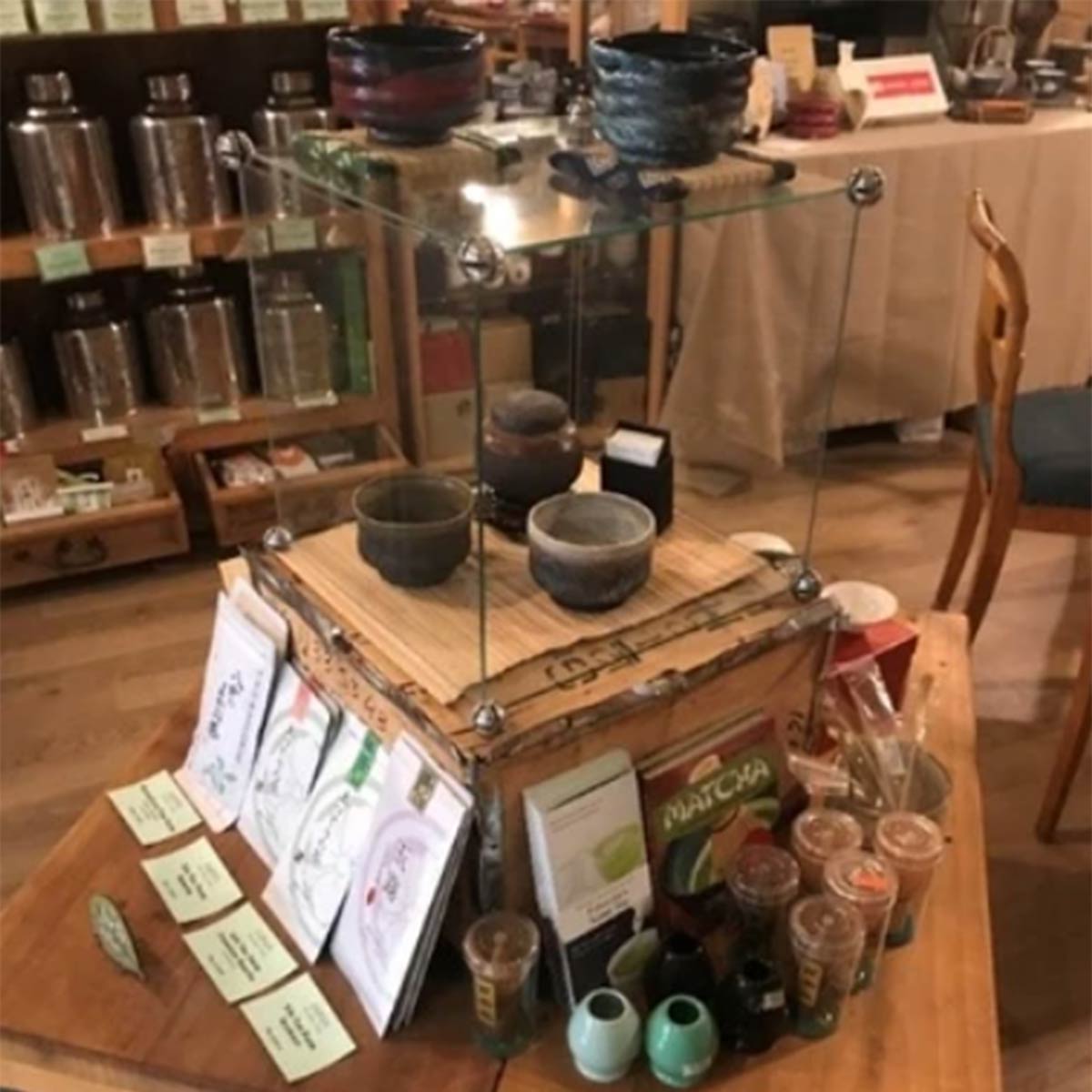 欧州 Europe
福岡県「八女茶」ブランドを筆頭に九州各県の茶を香港、米国、欧州等へ輸出。
欧州向けは、イギリス・ドイツ・フランス等へ、産地・品質にこだわった茶を輸出。
We export teas from various prefectures in Kyushu, led by Fukuoka Prefecture's "Yamecha" brand, to Hong Kong, the United States, Europe, and other countries.
For Europe, Wse export teas of particular origin and quality to the U.K., Germany, France, and other countries.
シンガポール Singapore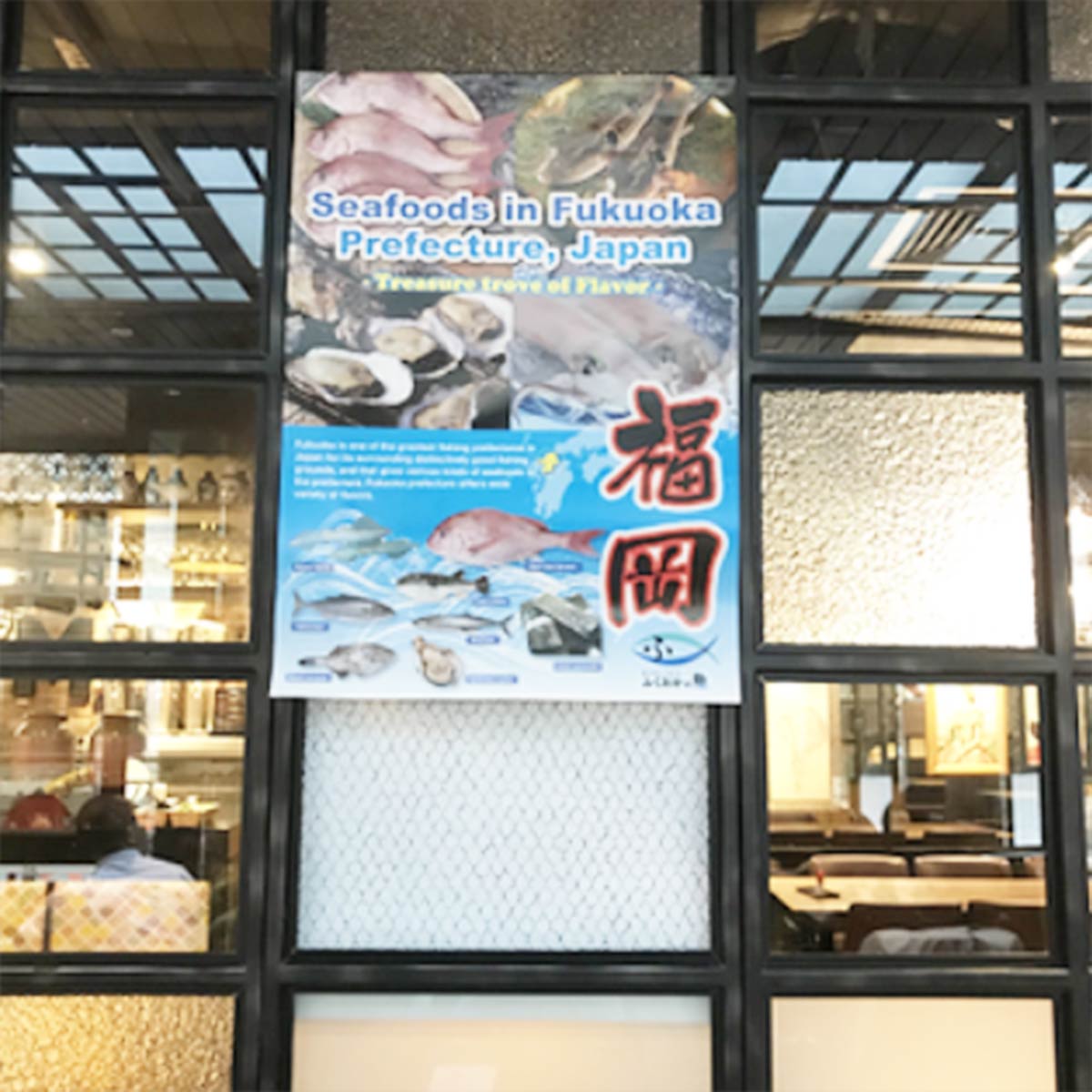 福岡県産水産品のフェア
有名日本料理店とメニューをタイアップ
提供品目;芝エビむき身、真鯛フィレ、黒ムツの干物、明太子、有明海苔など
Fukuoka Prefecture Fisheries Products Fair
Tie-up with famous Japanese restaurants for menu items;peeled shiba shrimp, sea bream fillets, dried black sea bream, cod roe, Ariake laver, etc.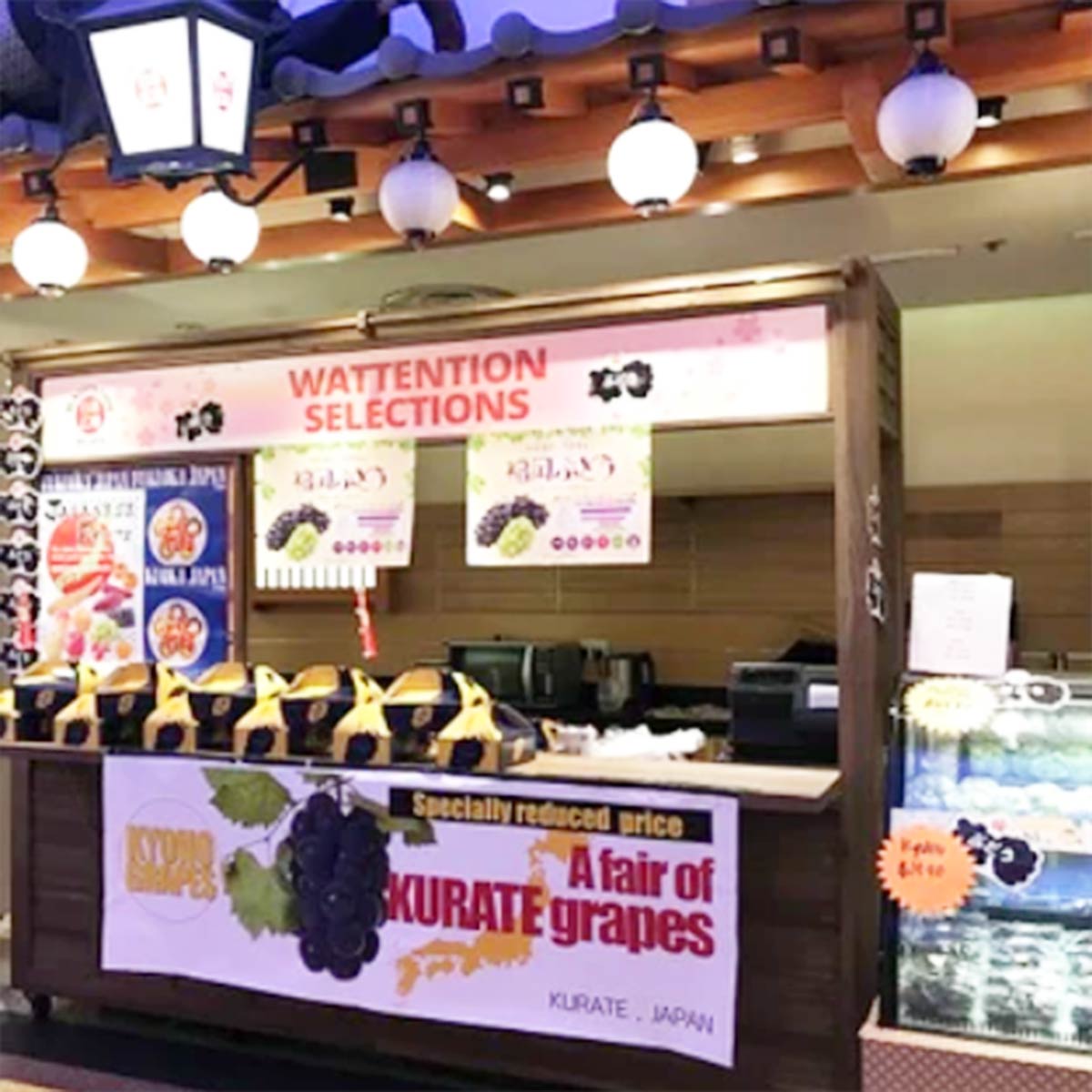 鞍手町ぶどうフェア
福岡県鞍手町産のぶどうは、大粒で甘いと好評。特設ブースで販売も好調であった。
Kurate Grapes Fair
Grapes from Kurate Town, Fukuoka Prefecture, were well received for their large size and sweetness. They were sold at a special booth.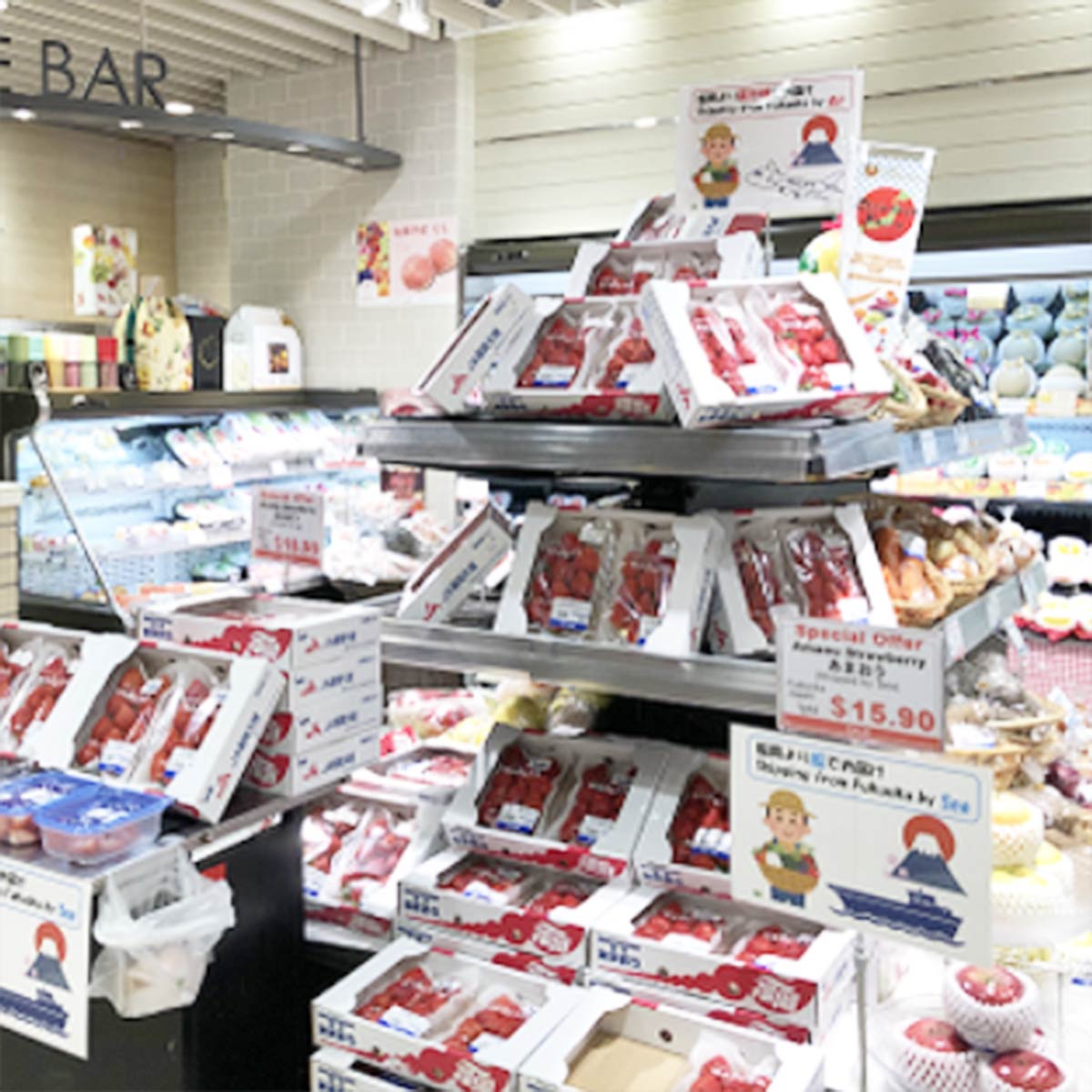 船便輸出あまおうの(航空便との)比較評価
博多港からシンガポールまで船で試験輸出。
飛行機輸出と比較して、荷痛みなど遜色はあまりなかった(※時期による)。
Comparative evaluation of shipping exports (vs. air) of AMAOU
AmaouTest export by ship from Hakata Port to Singapore. Compared to airplane export, there was not much difference in terms of cargo pain, etc. (*depends on time of year).
農産物等の輸出に取り組みたい方、
海外で農産物等のPRをしたい方の御連絡をお待ちしております。
We are looking forward to hearing from you if you are interested in exporting or promoting your agricultural products abroad.
各種連携
Collaboration
スマートフードチェーンアーキテクチャ構築と
農産物の輸出拡大に向けた共同物流の実証事業
(SIP事業)
多温度帯コンテナにより輸送した農産物の品質調査や現地試験販売を行い、農産物の市場価値を調査することにより、生産から流通・消費までのデータ連携及び最適化を可能とするスマートフードチェーンの構築を目的として実施。
"SIP Project"
The purpose of this project was to establish a smart food chain that enables data linkage and optimization from production to distribution and consumption by investigating the market value of agricultural products through quality surveys and on-site test sales of agricultural products transported in multi-temperature zone containers.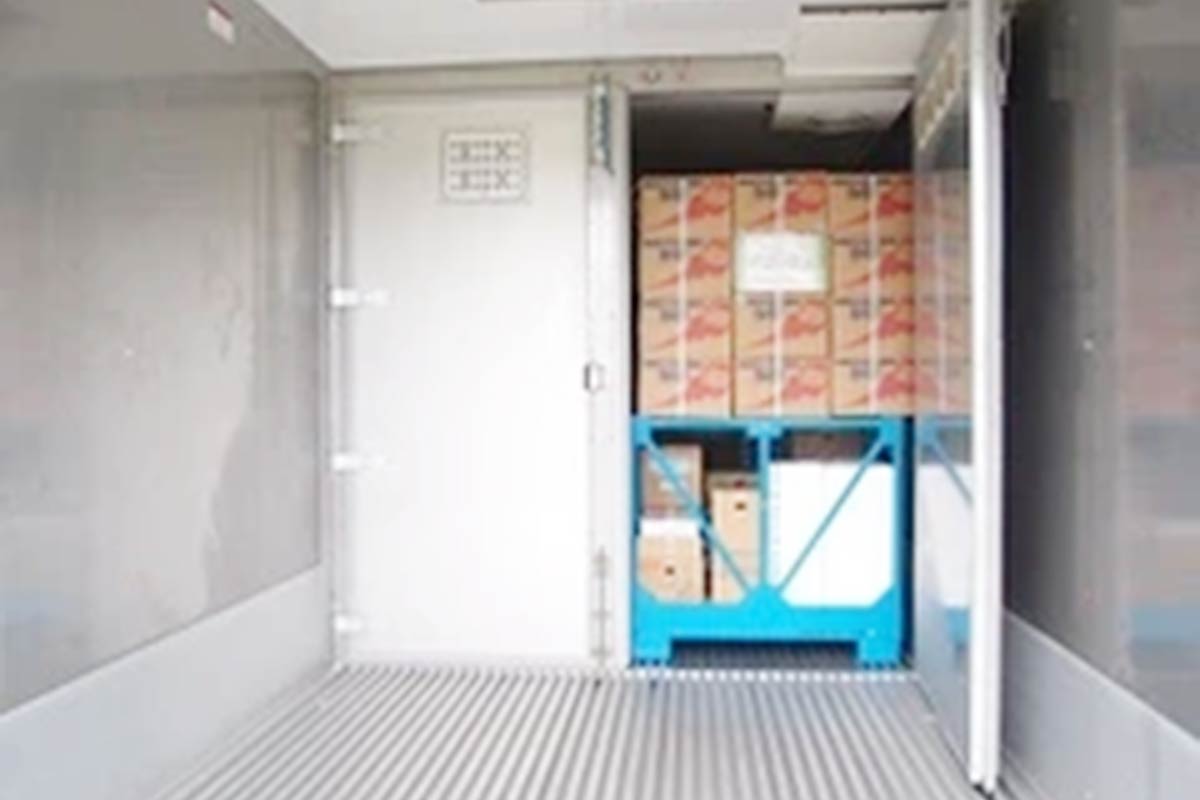 農産物のグローバルコールドチェーン網を実現させる
高鮮度保持システムの研究開発
日本産農産物の輸出促進と海外市場における国際競争力強化に向けて、相手国ニーズにマッチする農産物を新鮮かつ高品質な状態で相手国まで輸送する物流システムを構築すべく、他企業様、研究機関様と連携し取り組んでいます。
Research and development of logistics systems
that achieve high freshness retention
To promote exports of Japanese agricultural products and strengthen international competitiveness in overseas markets, we are working with other companies and research institutions to build a logistics system that transports agricultural products that match the needs of the destination country to the destination country in fresh, high-quality conditions.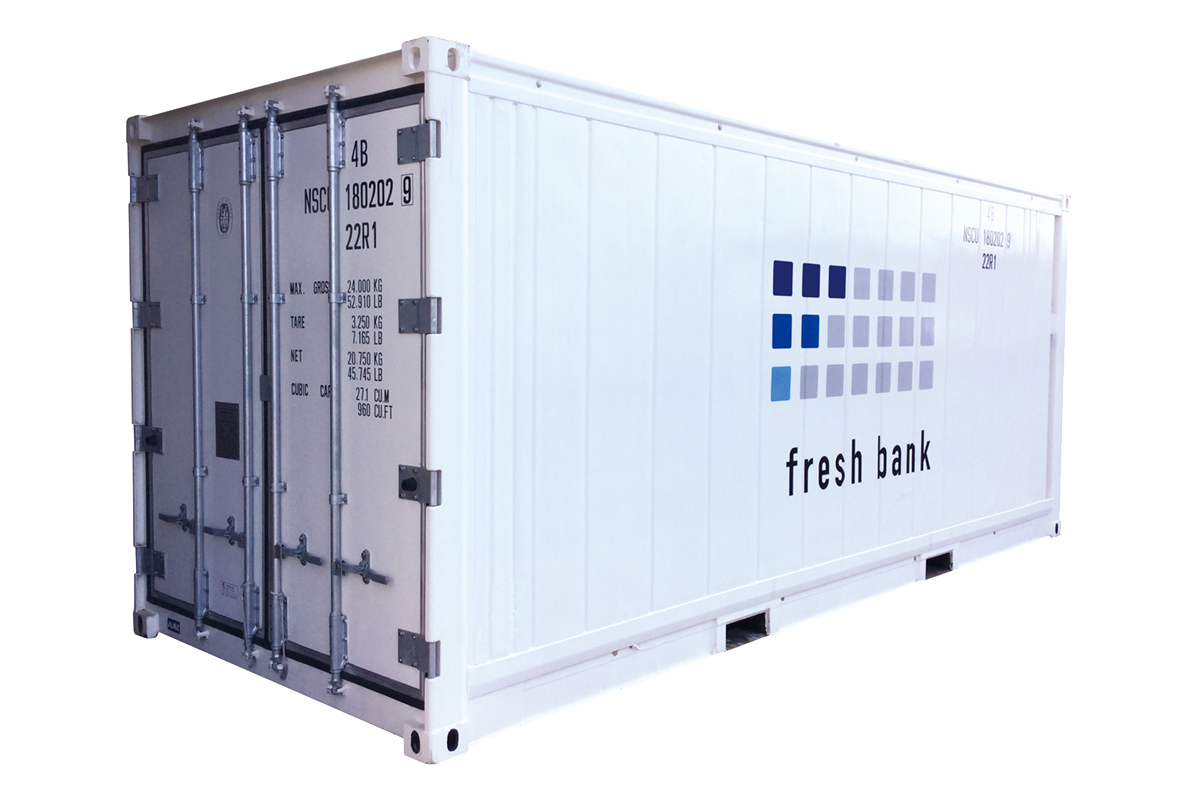 輸出先国別の規制への対応
Compliance with import regulations by country of export destination
台湾 Taiwan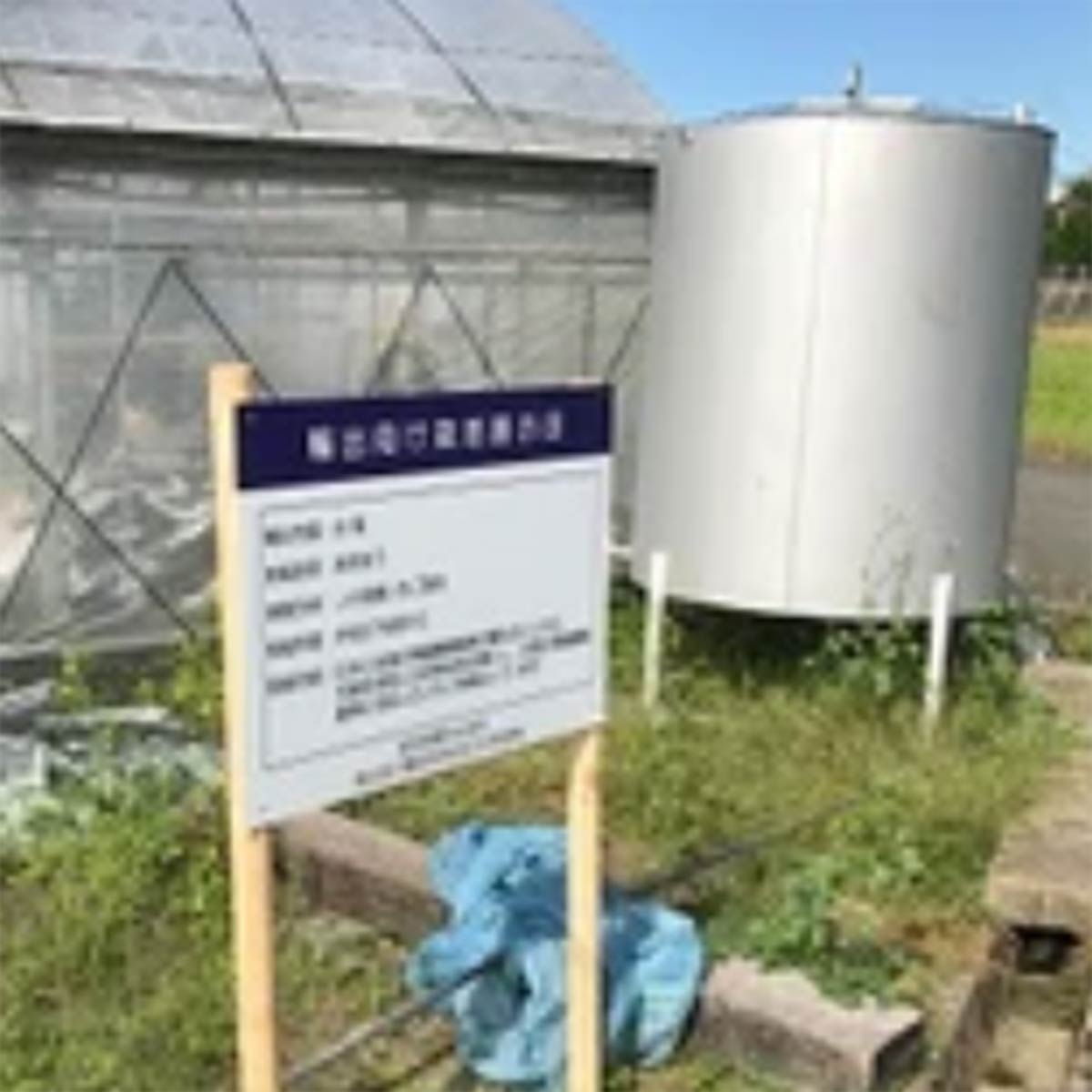 台湾側の残留農薬基準への対応
日本と台湾では登録農薬及び残留農薬基準に大きな違いがあり、中でもいちごは台湾側の残留農薬基準にあわせて作ることが困難。産地JAと県普及指導センターとの連携により、この課題を克服している。
Compliance with Taiwanese Pesticide Residue Standards
There are major differences in registered pesticide and pesticide residue standards between Japan and Taiwan, and it is particularly difficult to produce strawberries in accordance with Taiwanese pesticide residue standards. We are working with a certain JA and the prefectural extension center to overcome this challenge.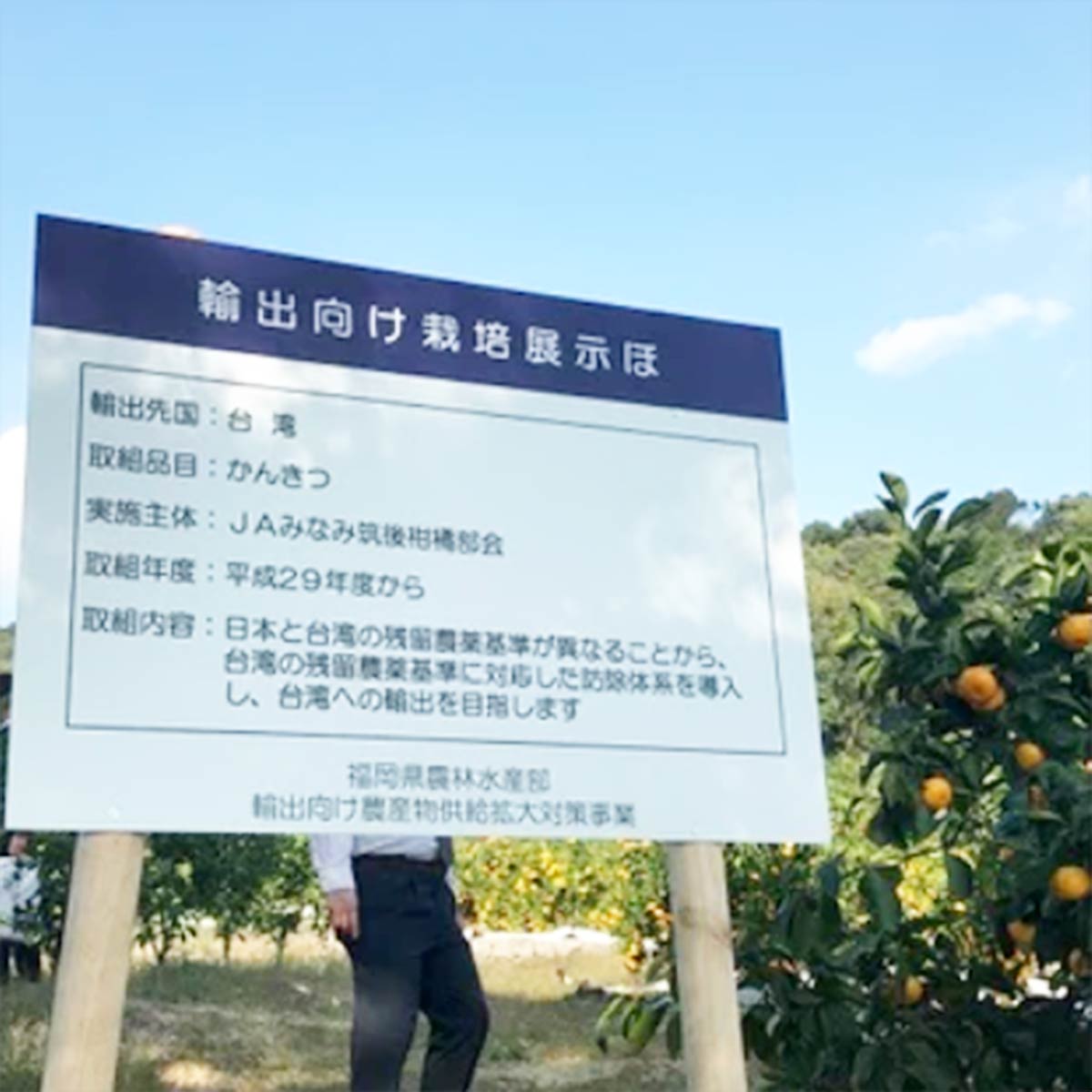 みかん、梨、ぶどうの輸出専用産地
九州内の複数のJAと連携して、温州みかん、梨、ぶどうについても、台湾側の残留農薬基準への対応、生産園地・選果こん包施設の登録等の対応を行っている。
Dedicated export production area for mandarin oranges, pears, and grapes
In cooperation with several JAs in Kyushu, we are also working to comply with Taiwanese pesticide residue standards for mandarin oranges, pears, and grapes, and to register production sites and fruit sorting and packing facilities.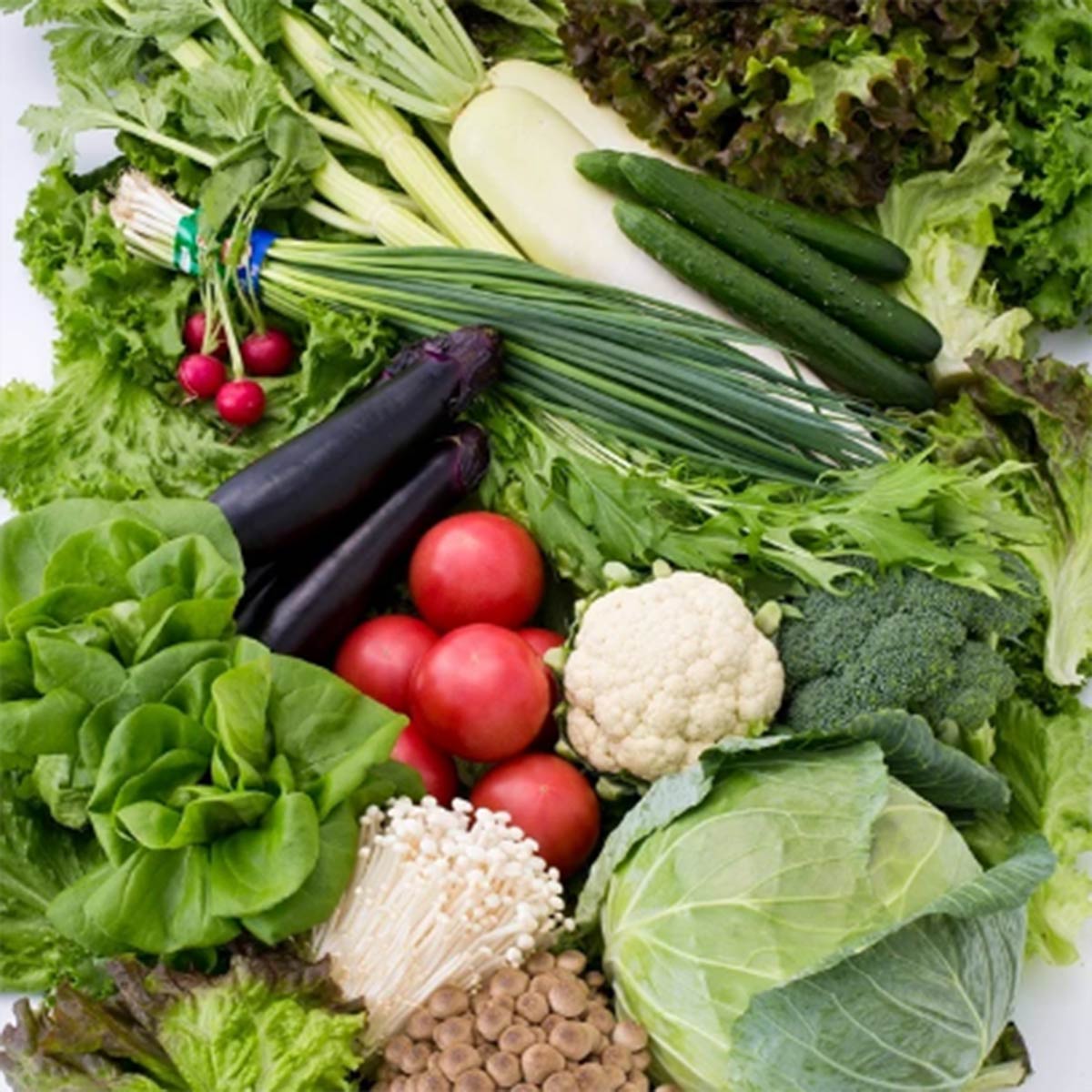 植物検疫や動物検疫等への対応
青果物では植物検疫、畜産物では動物検疫、加工食品では原産地証明及び台湾語ラベル表示の対応など、台湾側の要求に対応。
Compliance with plant quarantine, animal quarantine, etc.
We respond to Taiwanese requirements for plant quarantine for fruits and vegetables, animal quarantine for livestock products, and proof of origin and Taiwanese-language labeling for processed foods.
アメリカ U.S.A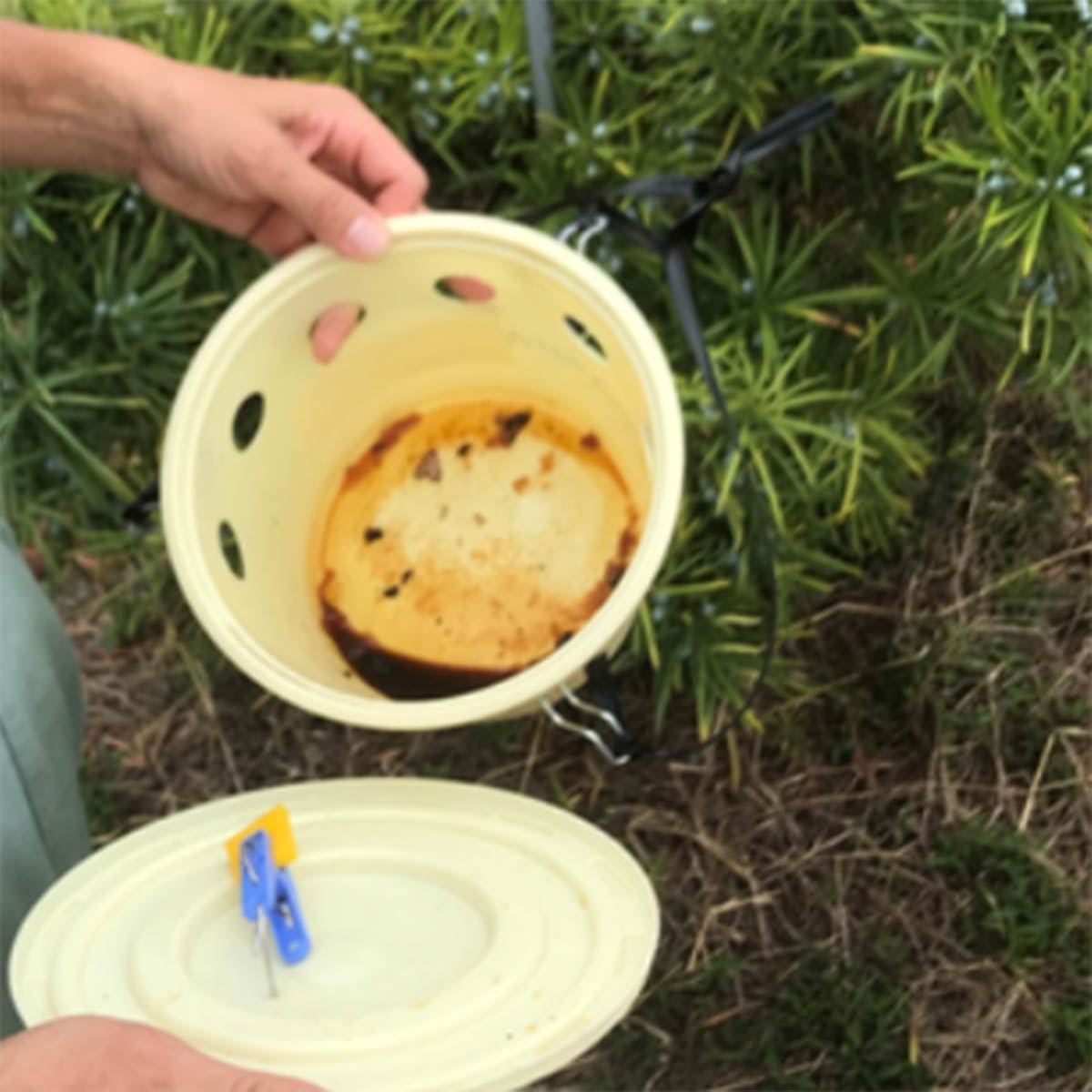 生産園地登録及びモニタリング調査
温州みかんや柿の米国向け輸出では、生産園地の申請・登録や、特定害虫のモニタリング調査等が必要となる。
Registration of Production Areas and Monitoring Surveys
Export of unshu mandarin oranges and persimmons to the U.S. requires application and registration of production areas and monitoring surveys for specific pests.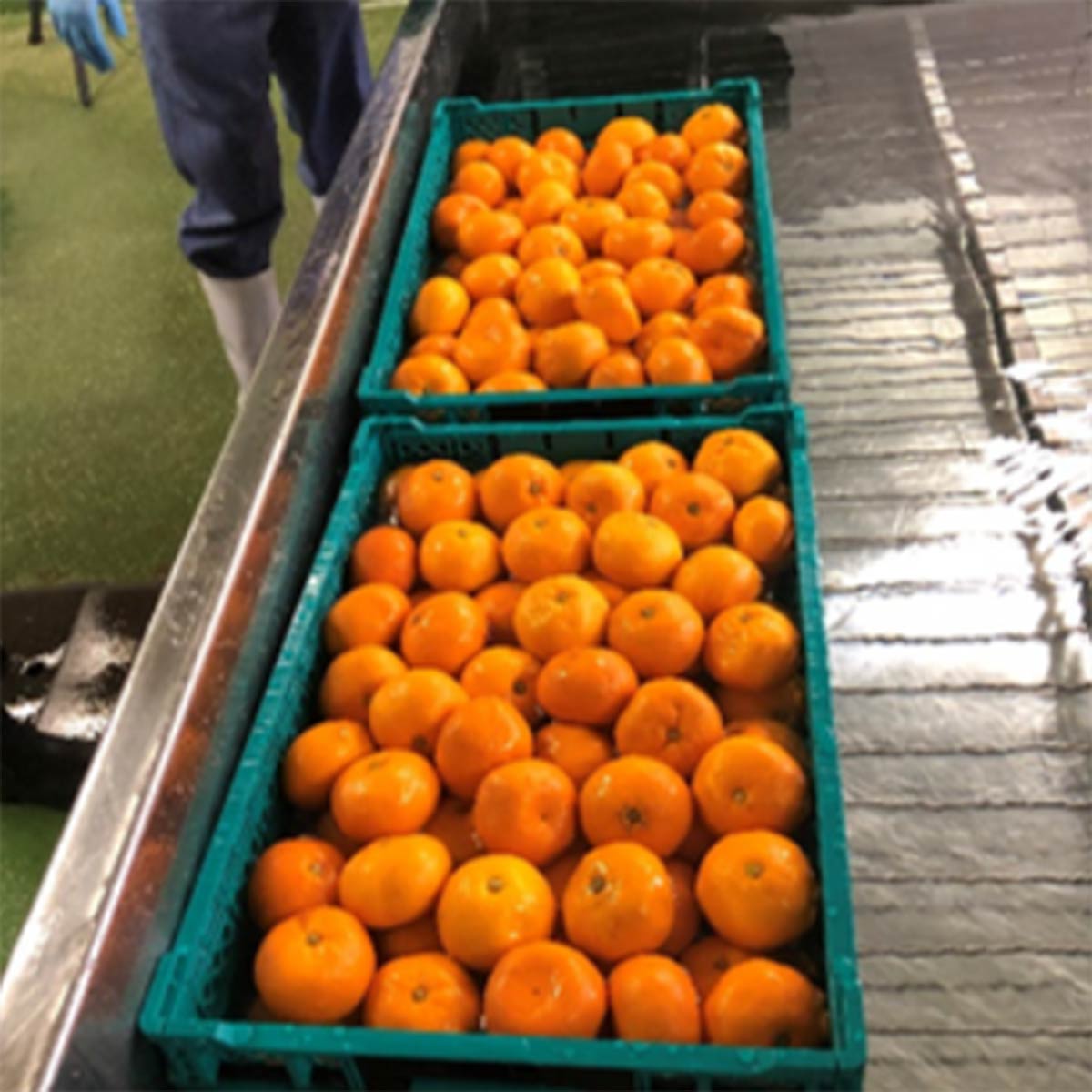 果実の表面殺菌処理
温州みかんの米国向け輸出では、輸出前に次亜塩素酸ナトリウム溶液を使い果実の表面殺菌を行うなど、植物検疫対応が必要。
Surface Sterilization of Fruits
Export of Japanese mandarins to the U.S. requires phytosanitary measures such as surface sterilization of the fruit with sodium hypochlorite solution prior to export.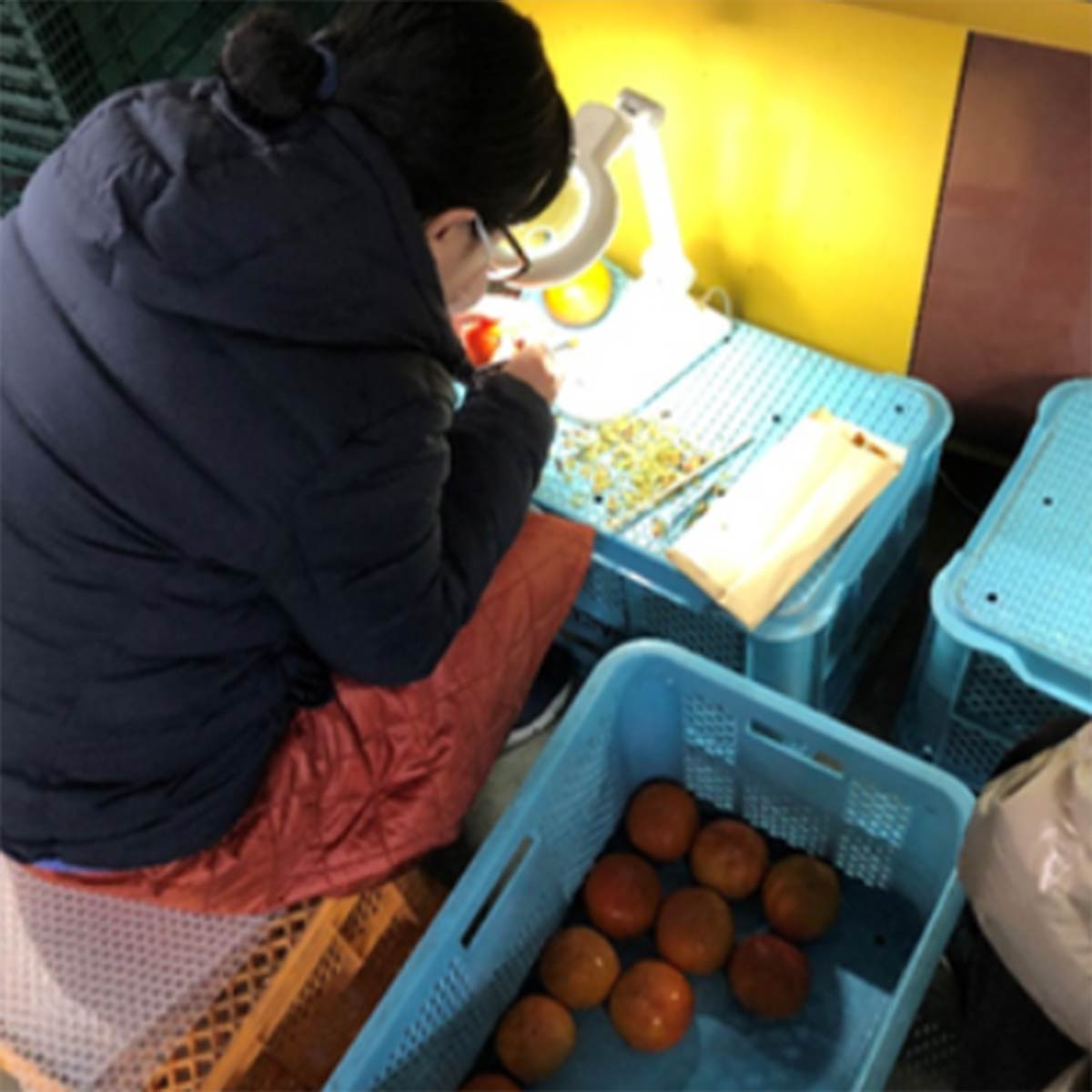 フジコナカイガラムシの除去
柿の米国向け輸出では、フジコナカイガラムシが1匹でも発見されると輸出不可となるため、1玉1玉丁寧に害虫の確認・除去を行う。
Removal of the Fuji Kona Beetle
For persimmon export to the U.S., if even one Fuji Kona Kaikagaramushi is found, the export will not be allowed, so each ball must be carefully checked and removed.
タイ Thailand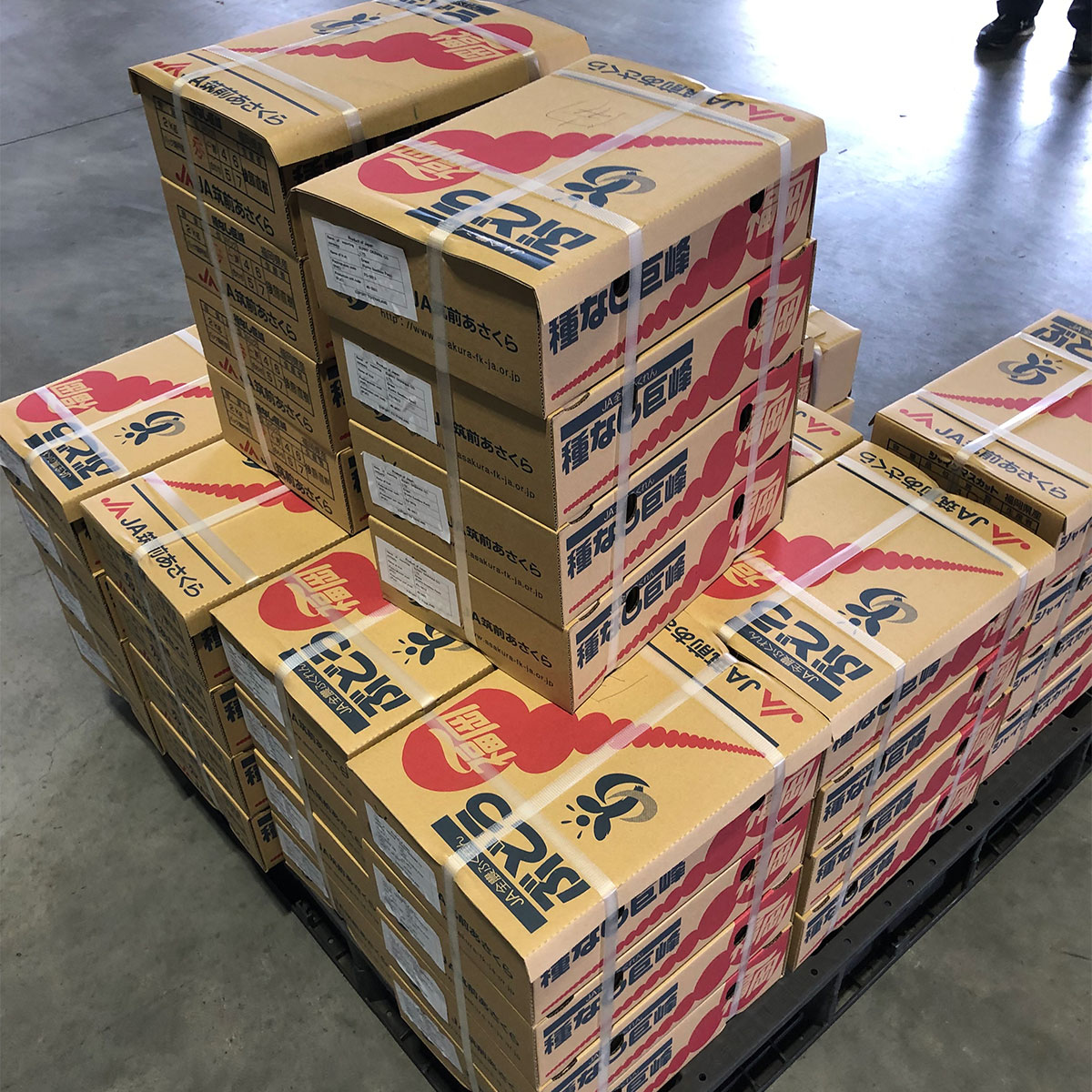 登録された生産園地及び施設のコード表示
ぶどう・いちご等の青果物について、輸出時に登録済みの生産園地や選果こん包施設のコード等を表示する必要がある。
Display of registered production sites and facility codes
For fruits and vegetables such as grapes and strawberries, it is necessary to display the codes of registered production sites and sorting and packaging facilities at the time of export.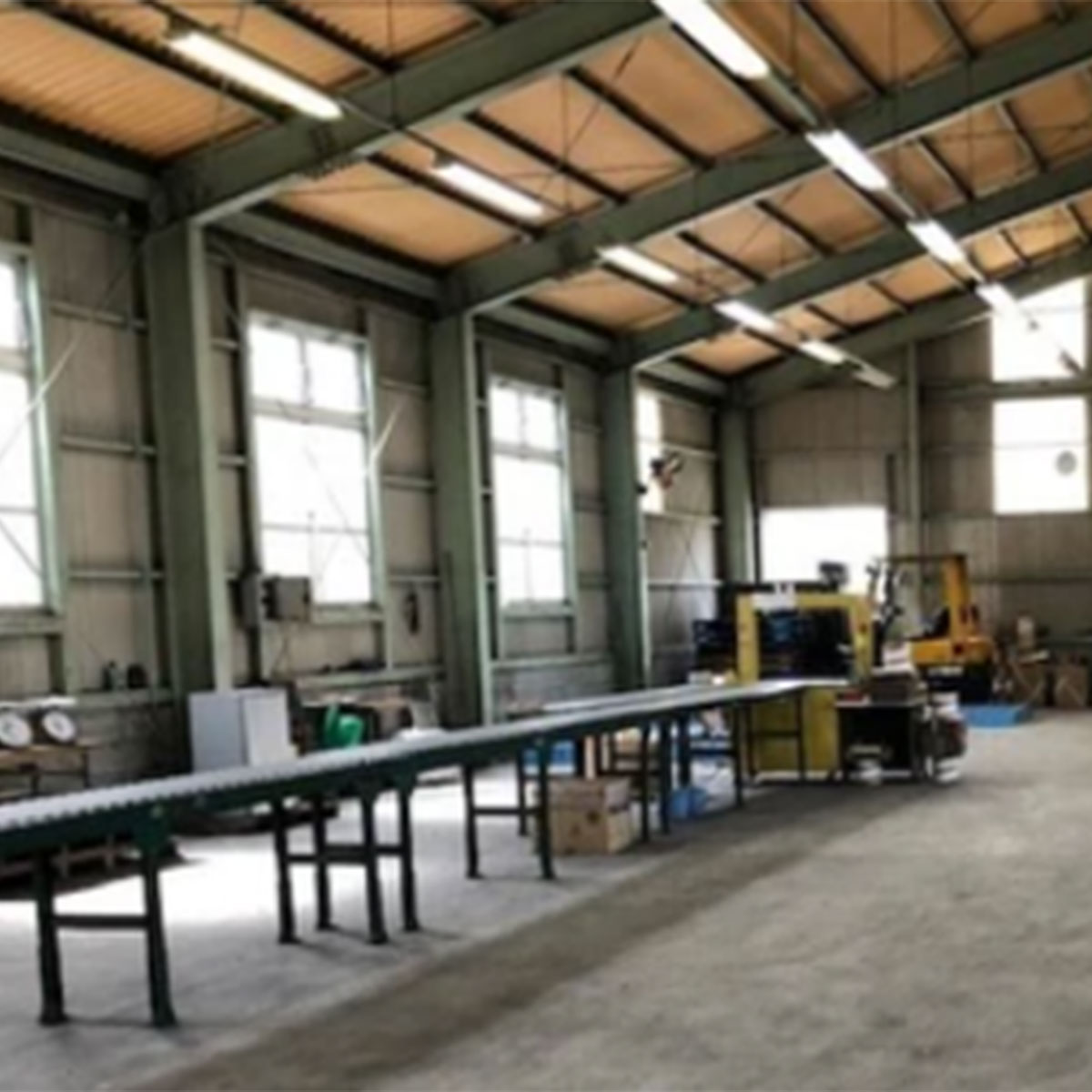 選果こん包施設の事前登録
タイ向けにぶどうやいちご等の青果物を輸出するためには、事前にタイ側の求める衛生水準を満たした選果こん包施設として申請し、登録を受ける必要がある。弊社は、JA様、農業法人様の申請・登録をサポートしている。
Pre-registration of fruit and vegetable sorting and packing facilities
In order to export fruits and vegetables such as grapes and strawberries to Thailand, it is necessary to apply for and obtain registration as a fruit sorting and packing facility that meets the sanitary standards required by the Thai side in advance. We support JA and agricultural corporations in the application and registration process.